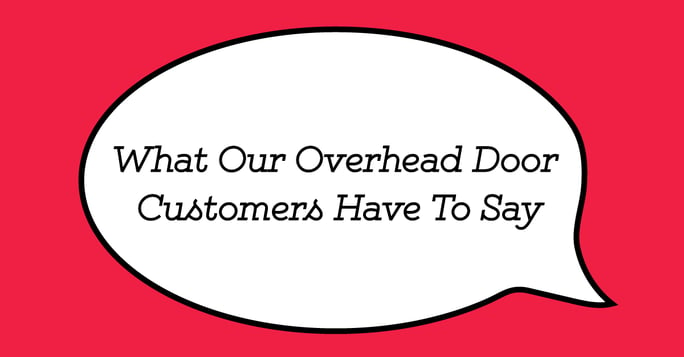 There is no question we love our customers and our job at Overhead Door of Sioux City and Overhead Door of Yankton. We never get tired of helping people find the best garage door solutions for their homes and businesses, and we also never get tired of knowing we're making a difference in the lives of our clients.
We're proud of our teams of designers, installers, and service technicians and the work they do, and we wanted to write a blog that shares some of our most recent testimonials. Here's to a job well done!
"This is a very honest and trustworthy company to work with. Nate came out on short notice to give us a free estimate.Very upfront and honest. Didn't push us in a direction he wanted. Just gave his advice and professional input and let us decide what we wanted to do." Dan L.
"We had an issue with our door prior to the end of the business day, but Jeff was able to come out after hours and fix it up extremely quick. Thanks for the help!" - Tyler Z.
"They did a great job in taking care of my door, They replaced the broken spring and lubed the whole system, Now it runs like a Top... Thank you" - Paul K.
"Paul was an awesome installer. Very good at what he does. You can tell he takes a lot of pride in his work. Very professional and has a great sense of humor. This company is very reasonable. They beat two other companies by a lot. I feel like we got a very fair price and a quality product." - Dan L.
"Very impressed by ODC's willingness to work with me to resolve a warranty complaint I had. By the written warranty, they didn't have to do anything and that would have been within their rights. Thank you for doing what I think was the right thing." - Dana B
"Big shout out to the Overhead Door technician who came out way after hours last night to make sure our broken door was safe and secure! He was so polite and didn't act one bit put out, which I'm sure he was!" - Kathie P.
"Quick and professional service. I have and do recommend Overhead Door to my friends." - Jeremy C.
Overhead Door is committed to quality garage door products and services and to serving our communities at large. Whether your need a new garage door or a garage door repair, we are here to help.