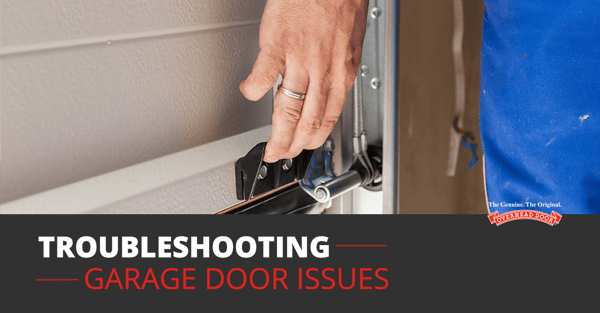 Garage doors can be tricky, and malfunctions can occur at the most inconvenient times. If you experience minor issues occasionally, we have some tips that can save you some time and money when it comes to your garage door's function!
Troubleshooting Residential Garage Door Issues
Residential garage doors usually run pretty smoothly, especially if you bought yours from Overhead Door of Sioux City or Overhead Door of Yankton. But, once in a while a problem can arise that affects how your garage door operates. Not to worry, we have the answers to your biggest garage door questions so you can expertly troubleshoot the problem.
Why Won't My Garage Door Open or Close?
There could be many reasons why a residential garage door won't open or close. Troubleshoot the problem by going through the steps below to identify the issue.
Make sure your garage door opener is plugged in. The first step is making sure your garage door has power and that a circuit breaker hasn't been tripped.
Check the photo-eye sensors. Your residential garage door has a pair of photo-eye sensors located at the bottom of the door that prevent the door from closing if something is in the way. Sometimes these sensors get knocked offline or become dirty. Clean the sensors and make sure they're pointed directly toward one another.
Check the different openers. Many homeowners have several ways to open their door, via a wall switch, remote or wireless keypad. Try each to make sure the problem isn't the opener or something else. (Keep reading below to learn how to troubleshoot your openers.) If none of the openers work, the problem likely lies in the door or even the motor.
Inspect your garage door's tracks, springs and cables.

A residential garage door is made up of many different parts

that work together to raise and lower the door. And if one is malfunctioning, it could affect how the door works. Inspect the tracks for misalignment and make sure the springs and any cables aren't damaged.
Try opening the door manually. If you've inspected all your garage door parts, the last step is simply opening the door manually. Pull the emergency cord (the red cord hanging from your opener) and lift the garage door. The door should easily open. If the door won't even open manually, it's probably a broken part, like a spring or cable. When this happens, it's time to call the professionals to come and fix it.


Why Won't My Garage Door Remote Work?
If you've gone through the steps above and found out your opener remote isn't working, first, try replacing the battery. If it still doesn't work, it could be a programming issue.
Press and release the Program button until an LED light goes on. Depending on your model, you may have to press the Program button again to get to the correct menu option for programming a remote. Flashing LED lights are a good indicator your opener is ready to program to your remote.
Press and release the remote button you wish to use, possibly a couple of times.
Use the button to operate the door.
If the remote still doesn't work, you may need to buy a new one, which ranges from $45 to $50.
How Can I Reprogram My Wireless Keypad?
If your wireless keypad has fresh batteries and the lights come on when you press buttons, but it still won't open your residential garage door, it might need to be reprogrammed. The instructions below are for Odyssey and Destiny openers. If your Overhead Door opener is a different model, refer to the instruction manual.
For the keypad, press and hold the Program key, 6 and Up/Down key in order. When the lights go out on the keypad, release all three buttons.
In order, press and release these buttons: 3, 5, 7 and Program. The LED should now be flashing.
Enter your chosen PIN. It should be between three to eight digits. Then press the Program button. The LED should flash twice.
At the opener, press and hold Program until the LEDs goes on. Release and one LED should remain lit. To get to the programming menu, press and release the Program button again and the LED should start flashing.
Pick up your remote or clicker and press the button already programmed to the opener. A second LED will start flashing.
Enter your PIN into the wireless keypad and press the Up/Down button. The LED lights on the opener should go solid. Press the Up/Down button on the keypad again to set the programming.
Why is My garage Door Noisy?
There are several reasons why your garage door groans, moans and shakes. Bolts may need to be tightened, its rollers and hinges might need to be replaced or the tracks, springs and rollers may just need to be lubricated. Use a silicone-based lubricant that is long-lasting and provides moisture resistance while working its way into tight hinges, springs and other hard-to-penetrate areas. Before you start lubricating your garage door parts, make sure to refer to your owner's manual for proper technique.

The crews at Overhead Door of Sioux City and Overhead Door of Yankton are here to help you troubleshoot any residential garage door issues you're having and provide repairs if needed. Contact us today.