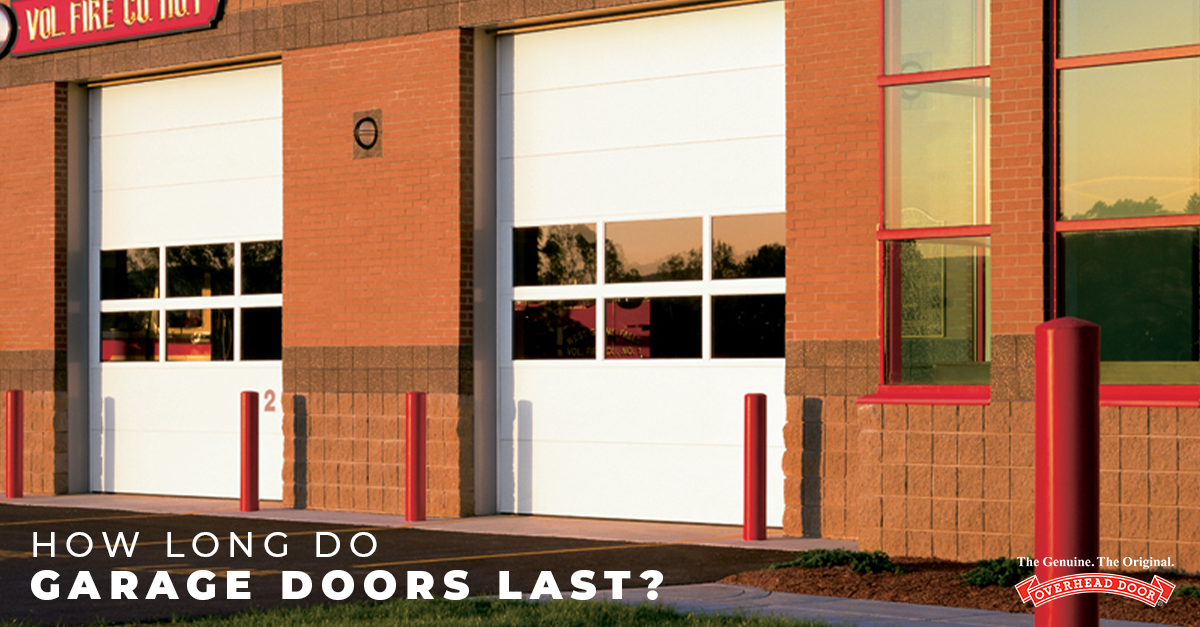 Garage doors are marvelous pieces of equipment that keep vehicles safe and out of inclement weather. But like any other household item, residential garage doors don't last forever. In fact, the more you use your garage door, the faster it will wear out.

Typically, residential garage doors can last up to 30 years, but that's only if the door isn't influenced by outside factors, e.g., it is never used. More importantly, your garage door is only one part of the system that can wear out. For example, springs have a lifecycle of about 10,000 cycles. So if you use your residential garage door system twice a day, it will last roughly 14 years. That may seem like a lifetime, until you realize your family is likely using your garage door a minimum of six times per day, reducing its lifespan to about 3.5 years. But there are things you can do to extend your garage door in the meantime.
Preventative Maintenance Extends Your Garage Door's Life
A good preventative maintenance routine can help your residential garage last as long as possible.
Lubricate Your Door
Take time each month to lubricate your garage door's spring, rollers and tracks to help reduce the friction caused by daily wear and tear. Use a silicone-based lubricant to get the job done. Silicone-based lubricants are long-lasting, provide moisture resistance and do a good job of working their way into tight hinges, springs and other hard-to-penetrate areas. Because they're weather resistant, they're a great choice for cold winters and hot summers.
Check the Door's Bottom Seal
A garage door's bottom weather seal keeps water, debris and animals out. A damaged seal can't do its job and could ice up in bad conditions. Keeping the weather seal lubricated will help reduce cracks and tears. If you do have to replace it, new strips slide into channels on metal doors or are nailed to the bottom of wood doors.
Tighten Loose Nuts and Bolts
A garage door that groans or shakes could have a part that's wearing out or coming loose. Look at your garage door springs, rollers, cables and other hardware, for signs of wear, rust or debris. Go through and tighten any loose screws, nuts and bolts.
Check Your Door's Balance
A garage door that's out of balance could signal that a spring or cable isn't working right. Test the balance by disengaging the manual release and raising the door by hand, pausing halfway up. If the door stays in place, it is balanced. If it doesn't, you'll need to call us to come and repair it.
Clean Your Garage Door
A clean garage door does more than just look nice, it prevents rust from forming underneath mud, dirt and salt. Clean your garage door with mild dishwashing detergent. Use warm water and a soft-bristle brush to get in all the nooks and crannies. Use a gentle, watchful hand; the last thing you want is to damage the paint or cause delamination. Steel garage door owners, take note: You can revive the luster of your door panels by applying a coat of car wax after you've thoroughly cleaned them; the wax will serve as a barrier to salt, rain and dust.
Telltale Signs Your Garage Door Needs Replaced
Even diligent maintenance can't permanently extend the life of your garage door. There are signs your garage door simply needs to be replaced.
Door Opener is Loud or Shudders
A residential garage door opener lasts about 15 years and if it makes a loud noise or shudders when it opens or closes, it could be time to replace it. A garage door opener is the key to opening and closing your door and once it goes, using it manually is your only option.
Garage Door is Damaged
Accidents happen but if a garage door has taken some hits from vehicles or other objects, your door may run less smoothly or even go off track. Plus, a damaged door poses a security risk to your vehicles and home
.
Garage Door Requires Constant Repairs
A garage door and its parts can be repaired but if you're constantly fixing your door, it may be more cost-effective to replace it.
The good news is that replacing your residential garage door is a great investment. According to Remodeling's 2021 Cost vs. Value Report, residential garage door replacement projects provide a 93.8% return on investment (ROI), topping the 2021 list.
The crews at Overhead Door of Sioux City and Overhead Door of Yankton can help your repair your garage door or provide you with options to replace it. Contact us to find out more.
You never know when a storm will knock out the power but with a Battery Backup, you never have to worry about it. Contact us today to learn more.
---