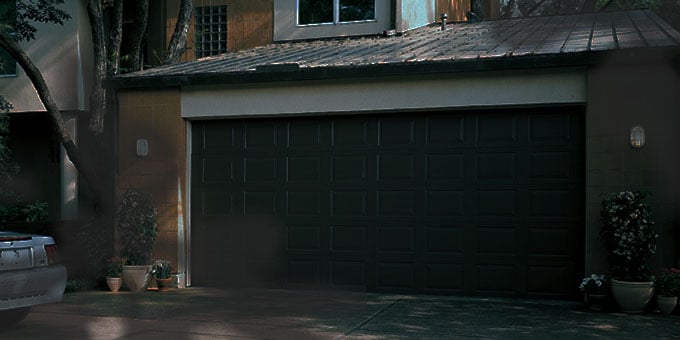 Between horror films in theaters, haunted house attractions, creepy cornfield mazes and everything else that goes bump in the night, October is just a scary month. But, in our opinion, there are few things scarier than something happening to your garage door.
Your garage door protects your vehicles, home and family. It's a nightmare when it's not working the way it should. Consider these bone-chilling situations:
You leave your door open all day and/or all night.

Have you ever driven

down

your street

and see

n

your

garage door wide open before you even hit the remote control

button

? Or have you gone

in

to the garage in the morning and door is already open? Your palms sweat

and your pulse races as all the different scenarios start running through

your head. Did someone break-

in? Are they still in the house? What was taken in the middle of

the

night? Was the door to the house locked? What type of vermin made their winter home in an unsuspecting corner of the garage? This is definitely a nightmare situation but one that can be easily avoided with the

Overhead Door Anywhere App

. Developed as a companion piece to our garage door opener, the app allows home owners to control their garage door from their phones. The app tells you when your garage door is open, closed or if someone else has been operating your door. How many times have you had a nagging suspicion that you left the door open? With the Overhead Door Anywhere App you can easily ease any fears, ensuring your door is never left wide open again.





Your keyboard shows no signs of life.

Most homeowners with keypads have become so accustomed to using them to get inside their home

they don't even use a house key.

But what happens when you ride

share home late at night and the keypad won't work? Or, even scarier, what happens when your child can'

t get inside on a rainy, blustery

fall day? Well

, you first put a contingency

plan in place, like having the Overhead Door Anywhere App, and then you reprogram the keypad with a pin the entire family can remember.

Reprogramming your wireless keypad

only takes a handful of steps and we have instructional videos on our website to help you out.





Your garage door spring suddenly snaps.

Your garage door is equipped with either a torsion spring

(a cable winding on drums) or extension springs that extend along horizontal tracks at the top of the garage opening.

These springs provide the tension required to lift your door. When they break, it is curtains for operating your door. Your car is trapped and unless you have a ride waiting, you're trapped too. While this may not seem like a nightmare to say a kid who can't get to school, for adults, we have schedules to keep and responsibilities to take care of. Luckily Overhead Door of Sioux City and Overhead Door of Yankton

has

service techs who can get to your home and make the repair fast. Our offices can be called or email and

service calls can even be scheduled

online.
Don't let these garage door mishaps leave you terrified, just keep us on speed dial. We can talk you through any easy fix or come and repair it in person.