Overhead Door of Sioux City is fresh from the 2015 IDA Expo, an international education venue for all of those in the door and access systems industry. We represented Sioux City and Yankton right alongside exhibitors from England, Germany, China, and several other countries around the world who showcased the latest products and services. We are excited to report some colorful and technological advances coming to the world of garage doors in 2015 and beyond!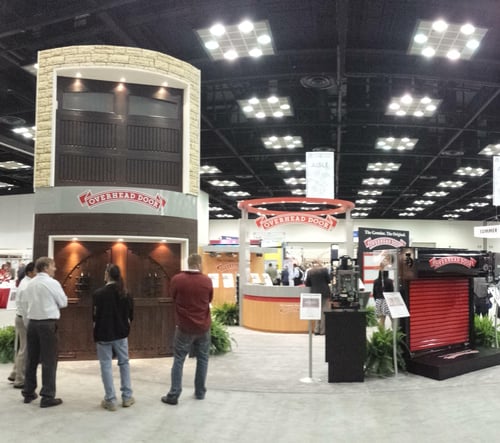 Time to show some true colors.
This isn't the first time we've talked about color and garage doors, and we are glad we are right on trend. It's amazing how many prefinished paint and stain finishes are now available to the residential and commercial garage door market. We were really impressed by the wood-look paints and the color schemes they were coming in, especially how well wood-tone paint embellishes and enriches a standard raised panel door.
Glass and aluminum doors get another upgrade.
There are more variations than ever to the modern look of glass and aluminum garage doors. The RAL Powdercoat palate alone comes in over 190 colors, allowing more customization than ever before to make sure your garage door accents or blends precisely into your home's aesthetic. Add that to the increasing variety of glass styles and colors and you have nearly limitless options to upgrade your garage door and keep with your overall look.
Open air and bug-free.
Screen your visitors, especially the the pesty ones, with the new rolling bug screens. Available in motorized and manual applications for commercial use, bug screens install inside a normal sectional door and keep the bugs out when you have the door open. And you know that Overhead Door of Sioux City is always thinking outside of the garage--these garage door screens could also be useful several in-home applications as well!
Technology brings the magic home.
It's no longer a thing of the future to connect yourself to your home while you are away from it. Today's residential and commercial openers allow you to control and monitor your garage doors from anywhere, taking a garage door remote very literally.
We love attending the annual IDA Expo almost as we love taking these ideas back home to the garage doors in Yankton and Sioux City. How can we implement these trends into your next garage door upgrade?