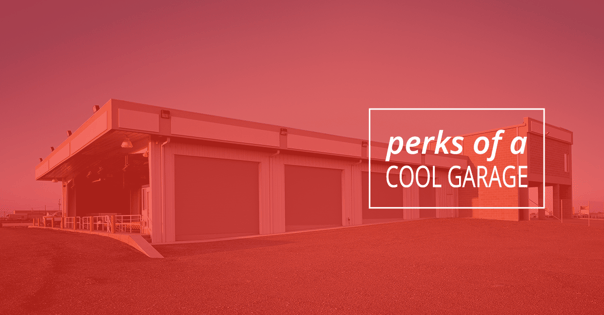 It's that time of year again when you walk outside, and the air feels hot and heavy. Midwestern summers are notorious for heat and humidity and those uncomfortable conditions are exacerbated inside a garage. For those that need to complete tasks inside their garage, store precious items or want to lower their energy bill, cooling down stifling temps is a must.
Why Does My Garage Feel Like a Sauna?
A garage's main function is to provide a secure spot to park a vehicle and other household items, not to be a comfortable living space.
Garage floors retain heat. Garages are typically built on a concrete slab that doubles as the floor. When you drive a hot car inside your garage or leave the door open to the bright sunlight, the concrete floor soaks up that heat and radiates it back into the room.
Lack of ventilation. Some garages don't have windows for security reasons, but that also means they likely don't have enough ventilation. If your garage isn't ventilated, hot, stuffy air gets trapped inside.
Lack of insulation. If your garage's walls and ceiling aren't insulated, any attempts to cool down the inside will literally go out the window or door.
Color of your garage. Your garage's paint color could be contributing to how hot it gets inside. Darker colors absorb more sunlight. So, if your garage is painted brown, black or dark blue, it's going to feel much hotter inside than one that is painted a lighter color.
Advantages to Taking the Temperature Down a Notch
An attached garage, one that shares a common wall with the house, can be a huge source of energy loss. Think about how many times your garage door opens and closes every day, exposing that common wall. If you don't take steps to cool down your garage, every time you enter your garage from your house, you let in a blast of hot air. The same goes for freezing winter temperatures. Extreme temperature fluctuations force your HVAC unit to work harder to keep up.
A hot, humid garage is also a veritable breeding ground for mold and fungus, which can quickly destroy any porous surface you're storing, e.g., cardboard, paper, linens, etc. Many chemicals, solvents and pressurized containers shouldn't be stored in areas where the temperature can reach above 120 degrees. While it doesn't usually get that hot outside, it can get into the 100s and if your garage isn't ventilated or insulated, the temperature inside could certainly reach that high.
How to Cool Things Down Inside Your Garage
Cooling down your garage requires solving all the issues that is making it hot.
Ventilate your garage.

Circulated air makes the inside of your garage much more bearable. A good fan can provide a short-term solution. Other options are to install a secure window, like an awning window that opens outward, or vent your garage through the roof or attic. Overhead Door of Sioux City and Overhead Door of Yankton can also install a screen door option for your garage door, allowing you to leave the door open, without inviting bugs or other vermin in.

Read more about screen garage doors here

.

Insulate your garage.

An insulated garage will help ensure cool air cannot easily escape and also help regulate the temperate inside your garage. Add insulation to your garage's ceiling, stopping the loss of energy to the space above, either an attic or room above the garage. Make sure the common wall is insulated. Eliminate any air gaps with caulk or canned foam along with foundations and windows.

Paint your garage.

If you're considering an update to your garage, consider choosing a lighter color that will reflect the sun's rays, instead of absorbing them.

Get an insulated garage door.

Overhead Door of Sioux City and Yankton™ has a selection of insulated garage doors that can help maintain the temperature inside your garage, reducing the amount your air conditioner must work to keep your home cool. R-Value is a measure of thermal efficiency. The higher the R-value, the greater the insulating properties of the door. Overhead Door Corporation uses a calculated door section R-value for our insulated doors. We have several door styles to meet your insulated door needs for both residential and commercial applications.
Stay cool this summer and contact us today about our many options of insulated, residential garage doors.
---