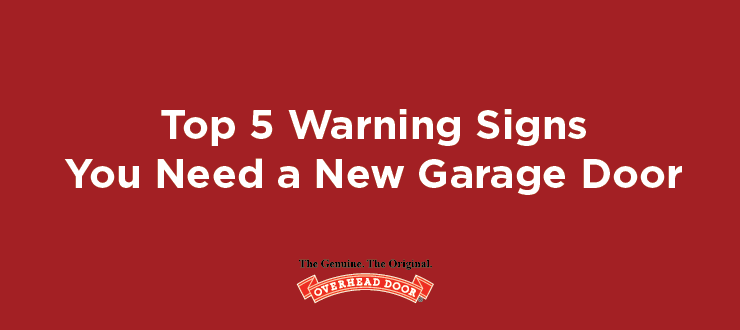 Garage doors and automatic garage door openers are two things that we couldn't imagine our lives without. Garage doors protect your valuables and keep out inclement weather and pests. Garage door openers allow you to come and go at the touch of a button. But like everything else, they do wear out. An average garage door lasts 30 years with an opener lasting about 15. There are a lot of homes around Sioux City and Yankton that are older than 30 years and likely still have their original garage door! Old, malfunctioning garage doors pose both a security and safety risk. Look for these warning signs that tell you it's time to replace your garage door or opener.
Your Garage Door Won't Open (or Close)
A garage door that doesn't perform its basic function isn't doing you a lot of good. There are a couple of things you can try first, before calling in the professionals.
Change the batteries in the garage door remote
Make sure the garage door unit didn't get accidentally unplugged
Check the photo eyes to make sure they're clear of debris and not flashing
Make sure the door isn't manually locked
Make sure the disconnect switch hasn't been engaged
If you've gone through all of these steps and your garage door still won't open, there's likely a bigger issue and you should call one of our service techs.
Your Garage Door Opener is Noisy
A garage door that screeches and screams every time it opens or closes likely has components that are wearing down. A garage door that is functioning properly should really run smoothly and very quietly. If yours is grinding, crunching or banging, it's probably time for a replacement.
Your Garage Door Frequently Loses Nuts and Bolts
Old garage doors can shimmy and shake on their way up and down. If you're seeing nuts and bolts on the floor of your garage or are going around constantly tightening them, it's time to invest in a new door. New garage doors, like our Traditional Steel doors are made with high-quality materials that offer both performance and durability. Plus, they come with endless design options.
Your Garage Door Opener is Outdated
As previously mentioned, garage door openers really only last about a decade but even if yours is working great, you may still want to consider a replacement. New garage door openers are made with the latest technology to not only work great, but better protect your home from thieves. All of our new models come with our CodeDodger® Rolling Code Access Security System. This is a digital code changing system that prevents someone from grabbing a radio signal that opens your door. The CodeDodger Access Security System eliminates the need to set a security code when the garage door opener is installed. Each garage door opener remote comes with its own continually changing access code.
Your Heating and Cooling Bills are Higher than Normal
An old, drafty door just can't keep the heat out of your garage in the summer or keep it in in the winter. When that either really hot or cold air keeps seeping into your home, your energy bills suffer. A new, insulated door, like our Thermacore doors, keep your home cool in the summer and warm in the winter because an insulated door acts a barrier between extreme temperatures and the inside of your home; essential for any attached garage. Plus these doors look great. They come in nine standard paint colors, a popular woodgrain finish or they can be painted to match your home's décor.
Your Garage Door is Just Plain Ugly
Your garage door is a huge part of your home's curb appeal. There are so many great options for new doors that the sky is the limit for homeowners looking to upgrade. Plus, homeowners can relax about spending the money on replacing their garage door. Garage doors are one of the best investments you can make for your home. In fact, the Return On Investment (ROI) rate for a new garage door is estimated to be about 98%, according to the National Association of Realtors' 2019 Cost vs. Value Report.
A new garage door is also one of the most affordable upgrade you can make to your home. They cost anywhere from $1,000 to $5,000, with $3,000 being the national average. Compare that to the cost of a new kitchen or bathroom, which can easily soar to $20,000 to $30,000. Contact us for a free estimate.