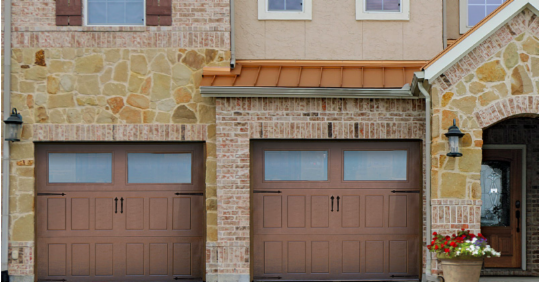 Garage Door Replacements Offer Huge ROI
Home renovation projects are big business and big expenses. To remodel a kitchen can cost anywhere from $12,000 to $33,000, on average for minor upgrades, or even more based on finishes, increased square footage, etc. Minor bathroom remodels are about $8,000 to $10,000 on average but could potentially be as high as $20,000. But if there's one home improvement that should be at the top your list it's replacing your old, shaky, inefficient garage door with a new, premium door.
Nearly 100% ROI
Remodeling magazine and the National Association of Realtors (NAR) have ranked garage door replacements as the top remodeling project in the United States for return on investment, according to the organizations' 2019 Cost vs. Value Report. The ROI on garage door replacement is 97.5 percent at resale. And, garage doors have consistently ranked within the top five projects since they were first included in the study in 2010.
One of the Least Expensive Upgrades
Where a kitchen or bath remodel or a building an addition can be huge expenses, each only recouping about 50 to 60 percent at resale, a new garage is one of the most affordable upgrades a homeowner can make.
Garage doors can cost anywhere from $1,000 to $5,000 depending on size, options and finishes, the national average being around $3,000. There isn't another upgrade that comes close to that cost with such an outstanding ROI.
"The Cost vs. Value report shows that 'curb appeal' projects generate the highest return on investment, making them among the easiest and most cost-effective ways to boost your home's resale value," said Christian Morrow, Brand Manager for Overhead Door.
Find Your Perfect Door
Overhead Door of Sioux City and Overhead Door of Yankton offer premium garage doors for every style and budget. Our latest and greatest door designs include custom steel, custom overlay and glass and every other option you can dream up. Our custom doors allow you choose materials, style, pattern, color, windows and trim. If you're stuck on trying to decide how these options will look on your home, try our design center.
The Garage Door Designer is our online interactive software tool that lets you visualize what your home will look with a new door. Simply upload a photo of your current door and start adding styles, features and colors to see how they'll look on your home.
Skip the master suite addition (which has a 50 percent ROI) and backyard patio (58 percent ROI) and put some money into your home that you know won't be wasted. Contact us today for a free quote on a new, premium door.