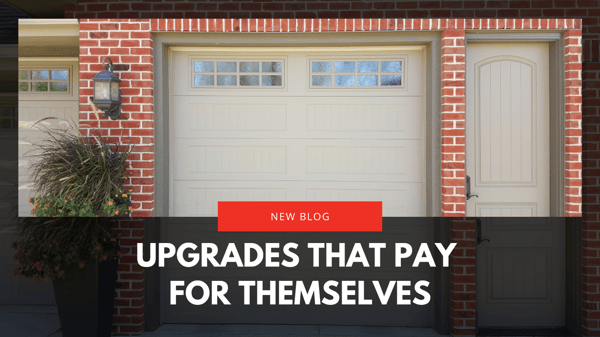 Residential garage doors are a great investment for your home. In fact, the ROI or money recouped is 93.3%, meaning if you spend $4,041 on a new door, you'll recoup $3,769 when it comes time to sell. But it can get confusing as to what type of garage door to buy, considering the wide range of doors available on the market. For example, the cheapest residential garage door starts at about
$600 and the more expensive ones can run upwards to $4,000
depending on upgrades and material quality. Since there are so many door options, knowing which upgrades are worth the money is helpful.
Here are our top 5 garage door upgrades that will pay for themselves.
Insulation
Every winter and summer we talk about the benefits of insulating your garage door and for good reason. Insulation increases your garage's ability to better resist conductive heat flow, i.e., insulation helps keep warm air from seeping out of your garage in the winter and cool air from seeping out in the summer. An insulated garage door with an R-value of 7 or higher can help regulate the temperature inside your garage, which can be extremely beneficial for attached residential garages. When temperatures inside your attached garage remain more consistent, your home's HVAC doesn't have to work as hard to maintain the indoor temperature when the door to the garage opens and closes. And the less your HVAC has the work, the more money you'll save on heating and cooling costs.
Rolling Door Code
Buying a residential garage door from a big box store might seem like a great idea, but generic openers don't come with the safety features that a proven dealer can provide. Consider the rolling door code feature that comes with an Overhead garage door opener. Overhead's CodeDodger® Access Security System is a digital code-changing system that prevents illegal entry from a remote used by someone "grabbing" a radio signal that opens your door via signal duplication. The CodeDodger® Access Security System automatically changes the access code each time the remote controller is activated. Each new code is selected from 4.3 billion combinations. This prohibits the garage door opener from responding to the same access code more than once. It can recognize an access code from up to seven different garage door opener remote controllers used to operate the same openers. The amount of security the CodeDodger provides is more than worth any expense.
OHD Anywhere App
The OHD Anywhere app is a great upgrade that pays for itself in convenience and piece-of-mind. OHD Anywhere is a smartphone app that works in conjunction with your garage door opener. It allows you to control your residential garage door from anywhere with a cell or wireless signal. The OHD Anywhere app allows users to check if the garage door is open or closed, get notified when someone uses the door and remotely opens the garage door for deliveries. Plus, the app has convenience features that allow you to set up both permanent and temporary users on your account, operate up to three doors on one account and free, over-the-air updates and features.
Wireless Keypad
A wireless keypad is a convenience feature that allows homeowners to open and close their garage doors without the need for a remote or even a phone. Wireless keypads are great for homes with older kids who need access to the house after school when parents are still working. The lack of panicked "locked-out-of-the-house" messages alone are worth the money but homeowners can rest assured this upgrade will last for years as well. Overhead Door of Sioux City and Overhead Door of Yankton's wireless keypads are made of tough, weather-resistant plastic that includes an ultraviolet additive to protect against sunlight damage. Movement from the flip-up cover doesn't activate the keypad, eliminating premature battery drainage.
Battery Backup
Investing in a battery backup is a much-needed upgrade for homeowners who live in areas where strong storms routinely knock out the power. An easily installed battery backup pays for itself in peace of mind. The Overhead Door™ Battery Backup, powered by Interstate Batteries®, provides reliable garage door operation in the event of electricity outages. It is compatible with Overhead Door® Destiny® and Odyssey® garage door openers. The Battery Backup accessory enables an opener to operate the garage door at 3.5 inches per second, and in the event of an extended loss of electricity, the unit will run up to 50 cycles in a 24-hour period after the initial power outage.
Along with upgrades like the ones listed above, Overhead Door of Sioux City and Overhead Door of Yankton offers customers a huge selection of garage doors with a multitude of features, including a variety of panel designs, hardware, colors and windows. What's more, customizing your garage to match your home's exterior will help boost your curb appeal, which will pay dividends when it comes time to sell.
Contact us to learn more.