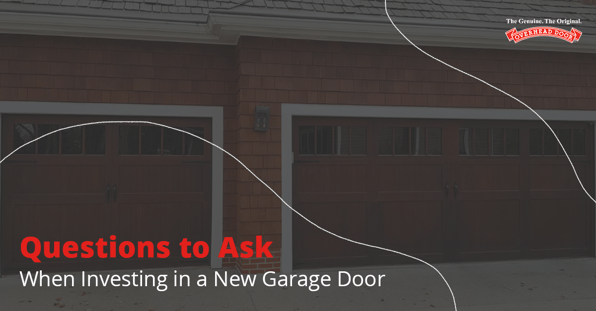 A new garage door purchase can be daunting, especially if you're not quite sure which features are most important for your home or budget. The good news is such a purchase isn't something you need to tackle on your own! Consulting with a professional can provide answers to your questions and peace of mind for you, as well as a more clear vision of which garage door best suits your home.
Common Questions to Ask Before You Buy a Residential Garage Door
A quality garage door is a must-have for any home. Residential garage doors offer security and curb appeal, but they're a big purchase. It's not uncommon to have questions before deciding to buy a new garage, especially when the economy is showing signs of slowing down. In June 2022, inflation hit 9.1%, the highest in decades. Now, economists predict a recession is looming, meaning it's more important than ever to make sure you're making a good investment.
What does a garage door cost?
According to This Old House, the national average for garage door prices is about $1,650, but new doors can range from $600 to $4,000. The range is vast due to the different styles, materials and sizes of residential garage doors. For example, Overhead Garage Doors from Overhead Door of Sioux City and Overhead Door of Yankton come in aluminum, steel and wood with options for glass, overlays and insulation. There are so many options that Overhead Door can offer residential garage doors ranging from premium to economical.
What's the Return on Investment (ROI) for a garage door?
The ROI on a new garage is higher than all other home remodeling projects nationwide, according to Remodeling Magazine 2022 Cost vs. Value Report. The ROI or money recouped is 93.3%, meaning if you spend $4,041 on a new door, you'll recoup $3,769. What's more, a residential garage door is much more economical than most home improvements. For example, adding manufactured stone veneer to your home has a 91.4% ROI, but costs on average more than $11,000. A minor kitchen remodel, which has the third highest ROI on the 2022 report at 71.2%, costs nearly $30,000. When you look at the numbers, replacing your residential garage doors is one the smartest upgrades you can make.
What's the difference between insulated and non-insulated garage doors?
The biggest difference between insulated and non-insulated garage doors is the R-value the door provides. R-value is a rating of thermal resistance of an insulating material to heat flow. The higher the R-value, the greater the insulating effectiveness. An insulated garage door will provide a much higher R-value than a non-insulated door. For example, Thermacore® garage doors are an insulated door that has R-values from 9.31 up to 17.55. This series of doors feature our sandwich construction of steel-polyurethane-steel as well as between-section seals with thermal breaks to reduce air infiltration. By contrast, non-insulated Traditional Steel doors have an R-value of 0, although there are some insulated Traditional Steel models with an R-value of 7.4.
How do I know when it's time to replace my old door?
It's pretty easy to read the signs that you need to replace your old door: it's costing you time and money in repairs, it makes a lot of noise when it opens and closes, it loses nuts and bolts and/or it is damaged, ugly or outdated.
A new residential garage door will work and look better than one that has been hanging around for a couple of decades. And if you invest in an insulated door, you could save money on your home's heating and cooling bills. If your garage door is attached to your home, an insulated garage door will help regulate the temperature inside your garage, keeping it warmer in the winter and cooler in the summer, lessening the stress on your HVAC system.
Overhead Door of Sioux City and Overhead Door of Yankton have so many great options for new residential garage doors that you will be able to find one that fits your home's style and budget. And with such a great ROI, you can be confident you're making a smart decision no matter which door you choose.
Contact our staff to upgrade your residential garage door today!