The use of garage keypads on the rise, as many homeowners love the benefits of device-free access to their homes. That being said, are they a safe alternative to the traditional garage opener?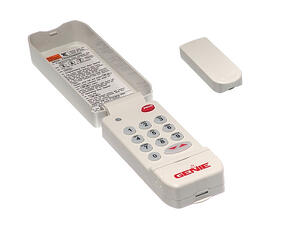 Unlike a garage door opener, which can be lost, broken, accidentally run over or lost by a toddler (true stories, unfortunately), a garage keypad is permanently affixed and useless if removed. Garage keypads are typically located on the exterior of the home and can come with over 10,000 possible code combinations. They can be added at any time (and even won for free). Programming your keypad is pretty straightforward, and takes only a few minutes.
The long and short of it is that garage keypads are as safe and effective as you make them. Here are a few ways to make the most of your keypad.
Keep your permanent code private.
Change your code regularly to prevent certain numbers from being worn faster than others.
Change your code as soon as you feel it has been compromised.
Clean the buttons on your keypad regularly with a degreaser and a cleanser so that numbers present themselves equally.
Provide temporary ones to the people who need to access your home while you are away (babysitters, contractors, dog walkers, relatives).
Lock the door between your house and the garage for an additional layer of security.
Add these tips to your regular garage door maintenance to ensure a properly working door every time you need it.
Remember that a garage door keypad--or any garage door remote for that matter--is not a security device. It is simply a mechanism to open the door to the largest room in your home. If you have valuables that you need to secure, you must lock the garage door as you would any other door in your home.
Want a FREE garage door receiver kit and keypad?