Commercial garage doors have come a long way in concept, design, and use. For the past few weeks, we've been exploring the many ways commercial doors are making an appearance in today's industrial parks, downtowns, and even residential homes.Today we are taking a look at how buildings can embrace both form and function in today's garage door designs.

---
1. Lighten up. Literally.
Just because your commercial garage door is industrial strength doesn't mean it can't shed some light on your business. Adding windows provides a cost-efficient way to add light to your garage without reducing privacy, strength, or resilience.
2. White and Bright.
When you are planning or remodeling your commercial building, don't let the need for differently sized commercial garage doors throughout the building's aesthetic. Tie them all together with the type of door custom-sized for each of your needed opening; this technique not only creates a simple and professional appearance, it also streamlines the maintenance and installation (and your budget).
3. ...Or 50 Shades of Gray Or red. Or brown. Or green.
Today's commercial garage doors come in whatever color you need them to be, all without sacrificing their well-built resilience. Whether you are trying to blend into an existing building or provide a recognizable pop of color against the standard industrial backdrop.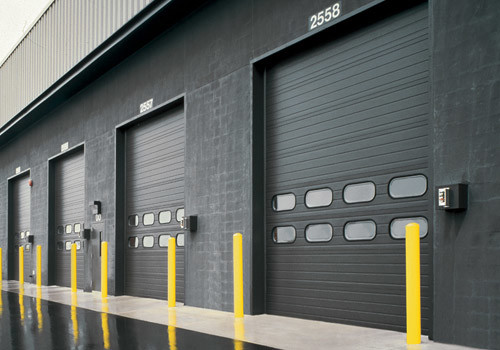 4. Take a nod.
If you're looking for a way to showcase the personality of your business through your commercial garage doors, you are in good company. Ahem. All puns aside, our installers and designers make it their job to work with you to get the look, the function, and the power you need to keep your business moving forward.
---
Does your building need a face lift? Do you have a concept you'd like to share with us? Let Sioux City Overhead Door help your company weather the ups and downs of its commercial garage doors.