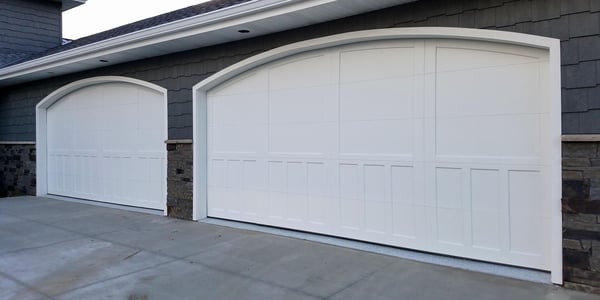 Dear Santa,
The holiday season is nearly here, and I have my list ready. First, I want peace throughout the world. Second, I want to end hunger, all hunger, everywhere. Thirdly, I wish health and happiness for my family and those I love. Lastly, I want a new garage door from Overhead Door Company of Sioux City and Yankton.
My old door doesn't look so great; it's on its last leg. The paint is chipped. The seal is cracked. Every time I hit the button to open it, its squeals, creaks and squeaks are a reminder that this time could be the last. So I'd like a new one, but not just any door.
I want a new door that looks great; one that my neighbors will envy. There are so many options to choose from, just go to Overhead Door's website and choose from the latest and greatest page. They have custom steel doors, which come in a wide variety of styles from classic raised panels and flush steel or can be easily painted to match my siding. Overhead Door also offers customized doors and overlays that give a twist on a classic design, which will really make my house stand out on my street. Don't forget windows! Windows will allow much-needed light to enter my garage and boost the overall appearance of my home. A new door will also raise the value of my home and is an investment that I'll get back if I decide to sell.
Whichever door you choose, please make sure it is insulated. The winters here are bitter cold and the extra layer of protection an insulated door provides will help keep my house warm and my heating bills low. Insulated doors are also quieter, so I won't wake up the entire house when I do my 6 a.m. coffee runs. Insulated doors are also way more durable than the non-insulated variety. This fact alone makes the investment worth it since the kids love to play ball in the driveway, the dings and dents on my current door are a testament to that!
So Santa, I hope you're able to bring me everything on my list. I know that if you gift me with a garage door from Overhead Door Company of Sioux City and Yankton the expert technicians will keep it running in tip-top shape for years to come.
Thank you,
Every Siouxland Customer