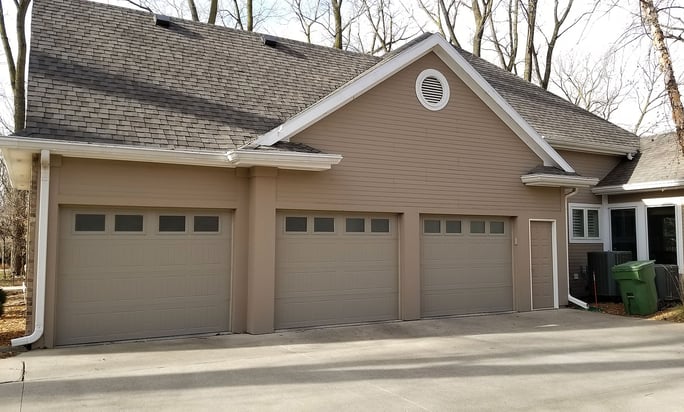 A garage door is a major part of the exterior of your home. For homes with an attached garage, it is often times used as the primary entrance. That's a lot of going up and down, which causes wear and tear over time. When you're ready to replace your attached garage door, consider having Overhead Door™ install an insulated door.
Why Insulate?
While a non-insulated garage door might work great for a free-standing garage, there are a number of reasons why an insulated door is a better option for your home's attached garage.
Insulated doors provide a

much

better barrier to the outside, which helps keep your heating a

nd

cooling cost down.

Metal conducts heat and cold very easily, but a

n insulated door can help keep the temperature in your garage above freezing, even on the coldest days. This is great for any type of liquid products you store in your garage.

(

Paints and other volatile compounds can lose their effectiveness if they freeze.

)

An insulated door helps create a vestibule-type effect, or buffer, for your home. The air in your garage is still cold, but not nearly as c

old as it is outside, s

o less artic air seeps into you home when you enter from the garage. The same

theory

applies for cool air in the summer.

There's no need to air condition the neighborhood!
Insulated doors are quieter. Insulated garage doors are made with either a

polystyrene or polyurethane insulation.

A p

olystyrene

insulation

comes in

sheets that

are sandwiched

between two front and back

metal

panels. The polyurethane

application

is injected into the door cavity as a liquid, which fills all the gaps and spaces

as it turns solid. A polyurethane insulated door

has a higher

R value then polystyrene, yet b

oth offer a much quieter experience over a plain metal door. That's because the insulation between the metal

will actually absorb more

of the

vibrations

caused

from going up and down. This can be especially important for split levels or raised ranch homes where the garage is located under the bedrooms.

Insulated doors are more durable. Because of the above-mentioned insulation process, insulated doors can stand up to more wear-and-tear. A non-insulated door,

one

that's made with just

a

sheet of metal, is much easier to dent and crease. Think of

it

like an empty pop

can

. It's much easier to crush an empty can than it is a can full of liquid.

Insulated doors tend to be much more attractive as well, an important feature to consider, especially if the door is on the front of your home.

They come in more color options and door styles than non-insulated.
Consider these facts when deciding on your next door. Remember, a new garage door averages a 75 percent return rate on your investment when you sell your home. Overhead Door Company of Sioux City and Yankton™ has several different types of insulated doors to fit your home's aesthetic and your budget. Give us a call today.