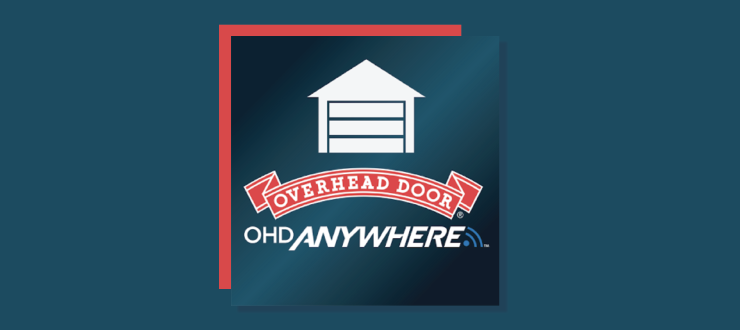 We want convenience in our daily lives. We have AI assistants that can turn on the lights and set the thermostat, robots that automatically vacuum our floors, cameras that show us who is at the door and speakers that know our favorite music. It makes sense that you should also be able to control your garage door with a touch of the button.


How the Overhead Door
™
Anywhere App Works
The Overhead Door™ Anywhere App allows you to control and monitor your garage door from literally anywhere with your Apple® iPhone or Android phone or device. Overhead Door™ Anywhere App uses a sensor attached to the garage door - an important security advantage versus other systems that monitor the opener instead of the garage door position.
Any time the door changes position, even if it is operated manually, you are alerted. The app is compatible with both Google Home and Amazon Alexa home automation systems.
Why You Need It
How many times have you driven away from your home, only to wonder if the garage door lowered all of the way? Or, how many times have you wished you could just buzz a neighbor or friend in to check on your pets or grab a package? With Overhead Door™ Anywhere App, all of that is possible, and more.
No matter where you are, work, vacation, your living room, you can check if your garage door is open, closed or if there is any change to the door position. You can also open the door for anyone such as a delivery or repair person or friends without having to provide a password to your keyless garage pad.
Plus, it provides extra home security. You'll instantly know that someone is operating your garage door. Also, with Overhead Door™ Anywhere App smart device enabled garage door controller, you also can access the history for each opener you have which tells you when the door was used, including dates and times.
Overhead Door

™

Anywhere App Features
Overhead Door™ Anywhere App is easy to install and easy to use. Its features include:
Compatibility with most residential garage door openers.
UL 325 compliant - audible and visual signals before door moves when operated from smart device.
One Door Control Module controls up to three doors.
One Door Position Sensor is needed per door (one module and sensor come standard with kit. Additional sensors sold separately).
Set specific schedules for multiple user accounts providing others virtual access to your garage door.
Ability to know if an authorized user is operating the door with the Overhead Door

™

Anywhere App.
Time-based features allow you to schedule door operation and personal notifications.
Maintains access history report for each opener.
Controls up to three doors* (one module and sensor come standard with kit; sensors for additional doors sold separately - part number 39395R).
What are you waiting for? Join the next age of garage door technology and call us to set up Overhead Door™ Anywhere App.