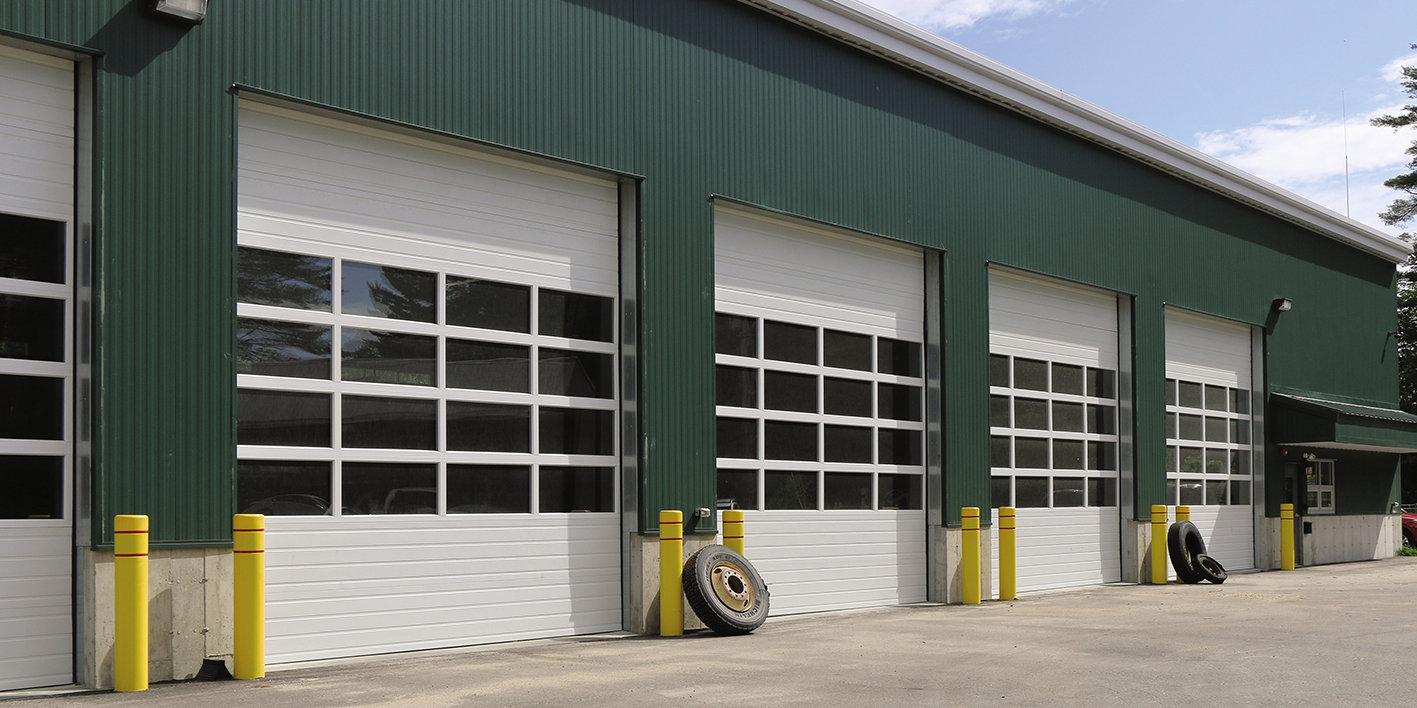 Commercial garage doors are a necessary part of doing business. These specially built doors allow companies to move vehicles in and out of work areas, accept deliveries and when open, even expand your working space (think restaurants with outdoor eating areas). If you haven't thought about your commercial garage door in a while, it may be time to upgrade its design.


All Commercial Garage Doors Provide Benefits
Commercial garage doors, like those sold by Overhead Door of Sioux City and Yankton™, all meet certain high standards. They fit multiple opening sizes, from the largest bays to smaller, utility vehicle spaces, are sturdy enough to withstand daily wear and tear, help keep indoor temperatures under control and protect your assets. That being said, commercial garage doors have come a long way in the past couple of decades. If your businesses' garage door is older than that, you might be surprised at what's available today.


Types of Commercial Garage Doors
Overhead Doors of Sioux City and Yankton™ have a full-line of commercial garage doors.
Aluminum glass doors offer some of the most attractive solutions for commercial and industrial applications where visual access, light infoveriltration and aesthetics are key design considerations. These doors come in a variety of stile widths, glazing materials, track styles and finish options. Ideal for service stations, fire stations, professional facilities and retail environments, our sectional aluminum doors are practical, durable and handsomely styled — and engineered for long life, low maintenance and enduring beauty.
Thermacore Doors are the premier line of insulated sectional doors. These doors are an ideal choice for applications that demand the highest levels of thermal efficiency, air infiltration and wind load resistance. The Thermacore® product line's unique manufacturing process provides a CFC-free, fully encapsulated, foamed-in place panel which maintains R-value performance year-round – and year in and year out. Thermacore Doors come in multiple models that accommodate different widths, air infiltration, durability and R-value. For example, the Model 594 doors feature a raised-panel, wood-grain textured surface for a more decorative appearance. This product is an exceptionally popular choice for RV door applications.
Rolling Steel Service Doors are ideal for situations where sideroom and headroom are at a premium, our upward-coiling service doors fit openings up to 1500 sq. ft. (139,355 sq.mm) and are available with the industry's widest array of slat profiles, curtain materials and colors, offering a virtually endless array of options to satisfy both aesthetic considerations and working requirements. Rolling service doors are available with a variety of slat profiles, materials, gauges and finishes.
Many of Overhead Door's rolling steel doors are available to meet the most demanding fire safety standards, unusual opening sizes and discerning aesthetic requirements. Designed to close automatically in the event of a fire or alarmed event, our fire-rated doors are available for service door and counter applications in commercial, industrial, institutional and retail projects. We provide fire doors with UL or FM labels and are listed for both masonry and non-masonry applications. Our FireKing® fire door collection offers fire protection, innovative design, and optimized performance for the end-user. The Fire Sentinel® time-delay release device provides an added measure of safety to control the doors' closure.
The RapidFlex® series of fabric high speed fabric doors offer solutions for both interior and exterior applications. Interior doors feature flexible bottoms for safety or a strutless design to reduce operational noise. Some models feature struts for larger door sizes and are easy to repair in the field. Exterior doors are made with a heavier curtain material. They can withstand wind loads of up to 4.0 psf and 22.0 psf.


Contact Overhead Door of Sioux City and Yankton™
There are a lot of styles of commercial garage doors available and the entire process of choosing a new door can be overwhelming. Overhead Door of Sioux City and Yankton is here to help. Contact us and we can help you decide which style will work best for your business.