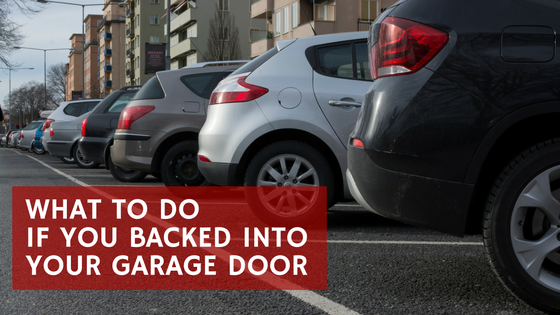 If you are reading this blog, chances are you searched for what to do if you backed into your garage door. And if you searched for it, chances are you've got a much bigger problem on your hands. Don't worry. You aren't the first person to back into your garage door, and you certainly won't be the last. Darkness, distractions, decaf, and icy driveways happen to the best of us; the only thing we can do now is take steps to get your garage door fixed.
Here's what you do.
Make sure everybody is ok. This is important for obvious reasons, but the less obvious one is that it should put a broken garage door in perspective.
Call the pros. A garage door weighs 400 pounds on average. There are high-tension cables and springs under a lot of pressure. There are hidden dangers that could be lurking beyond a dented door panel. Only a professional knows where to look, what to look for, and how to repair it safely.
Until it can be inspected, leave it alone. Refer to #1 and promise yourself you'll keep it that way. The majority of the time, your garage door is cheapest to repair BEFORE you attempt to do it yourself.
What if it's only a small dent? While it's still worth getting a professional to look at, if you can manually open and close the door without much force, it's most likely safe to close it if you have security concerns. Avoid using the door until it can be properly inspected.
The costs of repairing a garage door that's been backed into vary widely because it's hard to give an estimate without seeing the extent of the damage. Replacing a door section ranges from $100-$350+. Replacing an entire door ranges from $750 to $3500, depending on the size, materials, and surrounding structure.
Backed Into Your Sioux City Garage Door? Give Us A Call!
Overhead Door of Sioux City is happy to provide additional information over the phone to give you an idea of what to expect, what to look for, and the soonest we can come out to take care of it.
Get A $149 Service and Inspection + FREE Upgrade/Repair Package. Click Below!