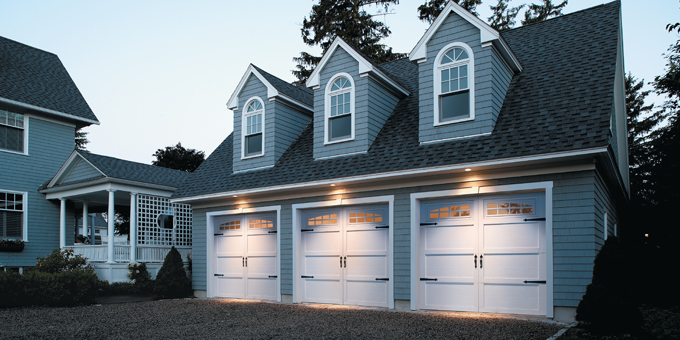 Between trimming and greening-up your grass, filling flower pots, weeding garden beds, and painting siding and trim, you put a lot of work into improving your home's curb appeal. But many homeowners overlook one giant piece of your home's exterior, your garage door. For some home styles, the garage door can take 20 to nearly 50 percent of frontage space. Don't let this valuable space go to waste. Use it to help boost your home's curb appeal.
Tips To Boost Your Garage Door's Look
Update the color. Steel, fiberglass and wood garage doors can all be stained or painted. Choose a color that will neutralize your door. Design experts advise not to match with your front door, instead, choose colors that allow the front door to pop and the garage door to disappear. Dark gray, browns and blacks are all great contemporary colors but make sure whatever you choose coordinates with your existing roof and siding.
Accessorize your door. Carriage house doors have built-in features that give modern doors an historic look, like patterned hinges and multi-pane windows. Potted plants, topiaries, trees and shrubs help break up the space a garage door takes up. Many homeowners are adding trellises and pergolas to add even more depth to the door.
Add lighting. Whether you hire an electrician to add outdoor sconces or install DIY solar lights in the landscaping, bringing more light to your garage door space are not only beautiful but functional. The brightness increases security around your home. The more light you add, the more dramatic the look.
Repair broken panels. Cracked, bent or broken panels can make your garage door look shabby no matter how much paint you use. A reputable garage door company can replace panels and/or weather stripping to help make your door look its best.
Invest in a new door. Upgrading your garage door is the best way to improve your home's curb appeal. It's an investment that has huge ROI of about 90 percent making it one of the wisest upgrades a homeowner can make. We sell all the latest and greatest styles of doors from steel, insulated, carriage house and custom overlay and glass. Plus, each type of door can be customized with endless options.
Contact Us For A Quote
We can give you options that fit the look of your home and your budget. Contact us today for a free quote on your new garage door.