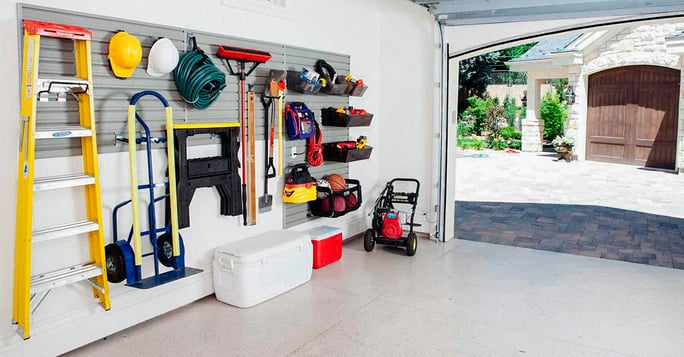 Ok, so you've made a New Year's resolution to organize your garage. Now is the time to act on it!
Messy garages lead to frustration and wasted time, especially when you need to find tools or materials in a hurry. For example, picture a cold Monday morning where you wake up to a dead car battery. You can get a jump start from your wife's car - saving your morning - but unfortunately your jumper cables are mysteriously hidden in the dirty depths of your garage. Now you're late to work, she's late to work and the kids are late to school. Not a great way to begin the day. The key is garage organization.
Use these tips to check that resolution to organize your garage off your list and always be prepared when a garage-emergency strikes.
Sort First

-

Sort the contents of your garage into related piles. For example, house maintenance, sports gear, gardening equipment, tools, decorations, etc.

This will help you weed out what items need to be thrown

away, moved to a different location

or

kept in the garage.

Consolidate Items

-

Store all of your "like"

items together. Dedicate a shelf or entire rack

just for gardening supplies,

pet supplies, car care supplies, etc.

Install Storage Options

-

Garage storage options

range in price from inexpensive

to very expensive

. There

are a lot of options to choose from. One tip: don't cover every wall. Leave space to hang tools, ladders and other items.

Consider Wire Shelving

-

Wire shelving and baskets serve two important pu

rposes; f

irst, they don't attract nearly as much dust as a solid service and secondly, they allow you to see what's being stored inside. Plus, they are probably the most inexpensive storage option.

Go Vertical

- Utilize shelving systems that allow you to add units higher up the wall. This is especially useful to store items you rarely use. The ceiling is also a great under-utilized

space and perfect to hang bicycles and water equipment from.

Keep Dirt Outside

-

Utilize an epoxy floor or tiles to help keep dirt from getting tracked into the house. These surfaces are much smoother than concrete,

which

allow you to clean them more efficiently.

Utilize

The

Corners

-

The back corners of garages are the perfect spots for quick corner shelves

, ideal

for smaller items like glues and oils. Existing studs can easily be connected with plywood

and

these smaller shelves are clear of your vehicles.

Make Brackets Pull Double-Duty

-

Build your own shelves and support them with closet brackets. The hook, which would be used for a clothing rod, is perfect to hold long tools like shovels, brooms and rakes.

Go Outside

The

Garage

-

Sometimes it is necessary to add storage someplace besides your garage. Look into adding a weather-proof storage cabinet

outside

for garden tools, lawn chairs or outdoor play equipment.

Build A Customizable System

-

Make your storage options fit your needs. Peg board and rail systems can accommodate any configuration of hooks and shelves.
Just make sure to keep items away from your garage door, rails and opener. Give your garage door equipment the extra space it needs to do its job - keeping everything you've organized inside - safe.
Interested in making the outside of your garage just as nice as the inside? Contact the experts at Overhead Door Company of Sioux City and Yankton to explore your options.