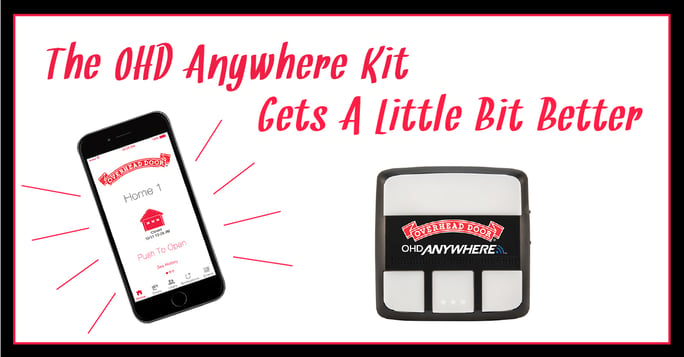 Overhead Door has always been on the forefront of technology, and we take our products and forward thinking seriously. When we developed the OHD Anywhere Kit™, our goal was to create an app and garage door interface that was easy to use and better than what the market currently offered.
And we just kept going.
Here are just a few things the OHD Anywhere Kit™ lets you do from your smartphone.
Check if your garage door is open.
Make sure your garage door is closed.
Get notified when someone uses your garage door, even if they operate the door manually.
Open the garage door for a delivery.
See what time your teenager pulled into the garage last night.
Let a neighbor into your garage to borrow a tool (although it can't make sure he returns it).
Set up permanent and temporary users on your account (they just need to download the app onto their own phones).
Operate up to three doors on a single account.
Free Over-the-air updates and feature upgrades as they happen.
And, for a limited time, when you pair OHD Anywhere with a new garage door opener from Overhead Door of Sioux City, you can get a little more—in the form of money in your pocket.