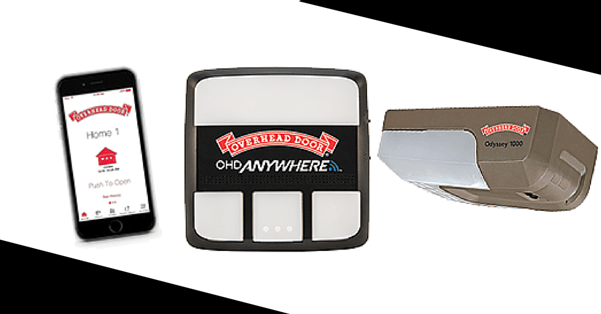 The good thing about buying a new garage door opener is that you can get the latest strength, smoothness, and silence on the market. The best thing about buying a new garage door opener is that you also get the latest technology and, these days, that's a huge perk.
Take the Odyssey 1000 garage door opener, for example. This small-but-mighty beast opens the heaviest object in your home without a complaint. Available for use with a belt or chain drive, its powerful ¾ HPc motor delivers not only the power, but also the speed needed to open and close nearly any garage door with strong lifts and soft landings.
"The benefit of a garage door like the Odyssey 1000 is that its smooth operation from start to finish ends up saving you on the wear and tear on your garage door itself," said Chadd Goosmann, owner of Overhead Door of Sioux City. "And you really can't beat its safety and technology features, especially when you pair it with the OHD Anywhere system."
Garage door safety has been improved drastically in recent years, and it goes beyond the ability of the garage door to run self-diagnostic functions, reverse operations automatically when an object cross through its infrared safety sensors, and the ability to change codes automatically to prevent wrongful entry. Now homeowners can couple their garage door opener with the OHD Anywhere Kit, a garage door monitoring app that not only keeps tabs on your garage door operation (whether it's open or closed and when it was last used), it also allows you to control it from your Apple or Android phone. This means that as long as you have a data signal, you can monitor your house's largest entry.
"It's peace of mind with a click of a button," adds Goosmann. "Not many apps can offer that."
For a limited time, you can get a discount on a new garage door opener.
Place an order by April 30, 2016 and receive $25 off an Odyssey 1000 door opener when you pair it with OHD Anywhere.