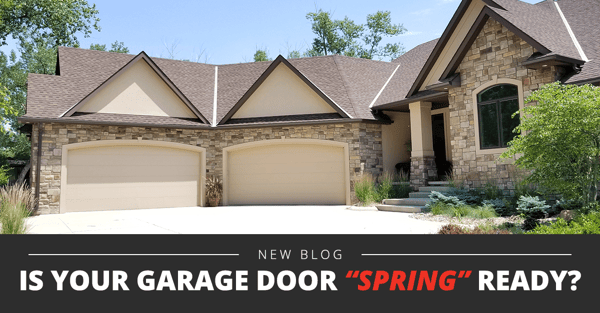 Get ready to dust away the cobwebs and sweep up the last of winter's debris, spring is officially here! Along with cleaning up the yard, deck and windows, it's time to give your garage door a refresh with a nice spring clean.
Get Your Tools Ready
All you need to give your garage door a good clean is a bucket, some warm water, a mild detergent and soft-bristled brush. Don't use an abrasive cleaner like Comet or a chemical cleaner as it could ruin the finish on your door. Also, if you're unsure how soft your brush is, start by cleaning a small, out-of-the-way spot first to make sure you're not scratching your door or damaging the paint. For steel garage doors, you can revive the luster of your door panels by applying a coat of car wax after you've thoroughly cleaned them; the wax will serve as a barrier to salt, rain, and dust.
Start at the Top
The best technique for cleaning your garage door is to start at the top. After dipping your brush in warm, soapy water, make small circles to gently lift and remove grime and dust. Start with one panel at a time and go down or go from left to right. Some homeowners find it's easier to spray the entire door down with water first, and work the bubbles in, rinsing as needed to keep pulling the dirt down to the ground.
Take Some Time to Inspect
Cleaning your door from top to bottom gives you the perfect opportunity to inspect the working parts of your garage door. Look for loose screws on the door and tighten any you see. Make sure the tracks are clean and free of debris; a shop vac or broom works great. Lubricate the tracks if needed. Check the springs to make sure nothing is slack or broken.
If the torsion spring is damaged, don't try to fix it yourself. Garage door springs are under a lot of pressure and shouldn't be fixed by an inexperienced homeowner. In fact, serious injuries and major property damage can occur when the garage door spring is compromised. In this situation, it's best to seek the help of professionals. They can determine how much of the door can be salvaged, what can be done to repair it (if possible) and what your options are regarding budget, availability and need. Keep in mind; safety is a huge concern with this type of repair.
Test Your Door for Emergency Situations
Since spring is here, and thunderstorms along with it, it's a good idea to test your door release to make sure that if the power goes out, you can get out of your garage. Make sure the latches or locks are open and pull on the system's bypass trigger (usually a rope that hangs down from the opener). Once the bypass trigger is engaged, pull the rope back as close to the opener motor as possible to keep it out of the way while you manually open the door. Your garage door should freely open with a little effort.
Once you've tested to make sure you can manually lift your door, reattach the automatic opener by pulling down on the handle at the end of the rope again. Pull up on the door until you hear or feel it span back into place. You can also just push your automatic opener button. The spring will reconnect once the opener reaches a certain point.
Whether you need a new garage door spring or a battery back-up accessory, Overhead Door of Sioux City and Overhead Door of Yankton should be your first call. We're the original garage door company and have years of experience serving Siouxland. Contact us anytime, we'd love to hear from you!