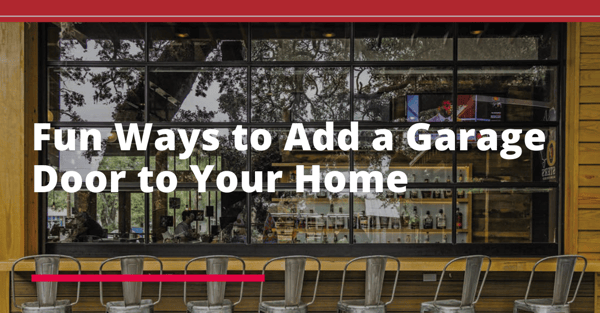 Residential garage doors are functional doors that allow homeowners to park their vehicles inside their garages. Residential garage doors provide comfort, convenience and security. But garage doors can also be a great design feature in other areas of your home!
Open Up Your Patio Space
Patios and decks extend your entertaining space when the weather is nice. Installing an aluminum garage door in place of a sliding door or French door can open your space up even more. A modern aluminum garage door, like Overhead Door™ Model 521, gives maximum light filtration and visual access. When the door is raised, the outdoors and indoors blend, providing great airflow. When down, the glass panels allow tons of light to brighten your space.
Add a Pass-Through Door to Your Outside
Counter doors can be found in concession stands, hotels, banks and libraries, but they also can be put to work at home. A pass-through space from the kitchen to the patio can benefit from a counter door. Slide the counter door up and add space for your grill prep. Or take advantage of the extra counter space for setting out food or drinks when you're entertaining outside. Overhead Door™ counter doors can fit spaces up to 20 feet wide and nine-feet tall. Or replace your large kitchen window with an aluminum garage door. The smaller door will still allow for light while opening the space to the outside.
Let the Outdoors in Your Sunroom
Sunrooms are designed to allow homeowners to experience the outdoors for three out of the four seasons. Adding a garage door to one side literally brings the outdoors in, opening your view when the weather is great or providing protection when the weather turns. Overhead Door™ modern aluminum garage doors or Envy™ model 9980 would work great for a sunroom space. Envy doors are full-view aluminum doors that look sleek and modern.
Make a Splash with Your Pool House
Garage doors and pool houses just make sense together! Garage doors give homeowners a large opening to store heavy, bulky pool supplies and oddly shaped pool toys. The choice of garage doors to install in a pool house are endless. You could make a statement with a modern aluminum door or choose a steel or vinyl door that will complement your pool house's exterior and stand up to wear and tear. Overhead Door™ Traditional Steel doors offer legendary performance at an affordable price.
Pump Up Your Home Gym
Home gyms typically get the short end of the stick when it comes to optimal space in your home. Many times, they're regulated to the bottom or back of the house. But you don't have to revamp your home's floor plan to create a space you'll look forward to working out in. Consider adding a modern aluminum garage door to open the space. If you've already converted your garage into a workout room, upgrading your current garage doors to aluminum garage doors can take your space to the next level while providing outstanding curb appeal. These modern garage doors feature crisp lines and a sleek design formed from durable corrosion-resistant aluminum frames. Their light-filtering glass makes a striking complement to your home.
Next time you're considering replacing or adding an opening to your house, consider how using a garage door could enhance your space. Our experts can help you decide on a garage door that will take your project to the next level. Contact us today to learn more.