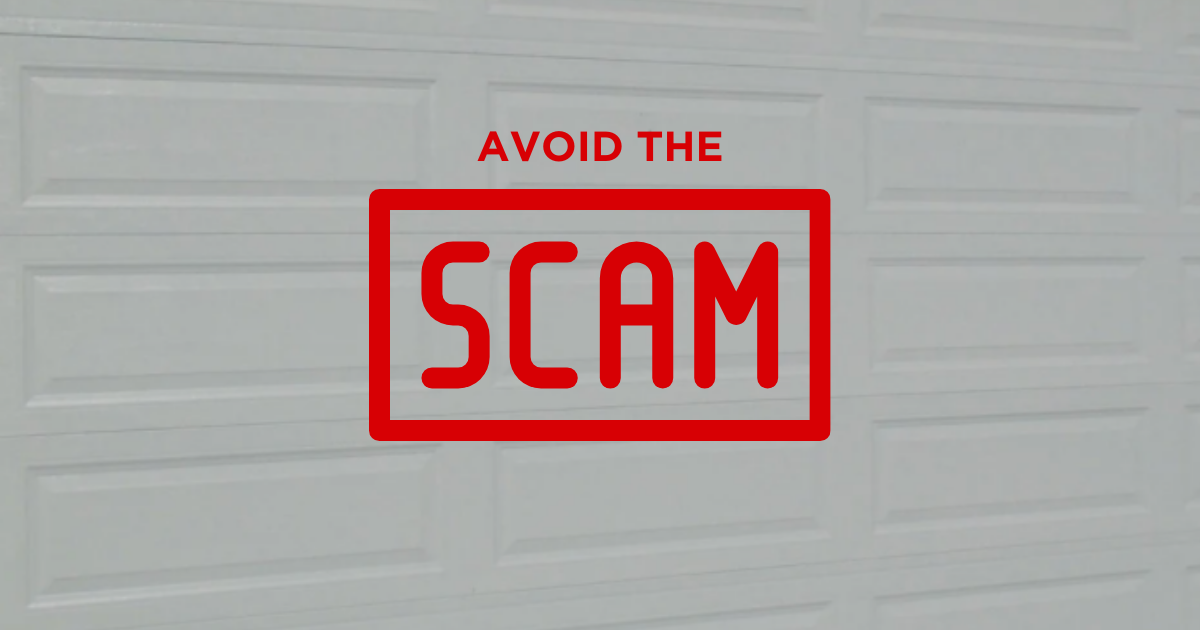 It seems like no matter what year or season it is, garage door scams rear their ugly heads. You may see ads on social media promising cheap repairs or websites from unknown companies listed on Google searches. No matter how they're advertised, you need to always be on the lookout for ads that promise big results for very little money. Remember, if it sounds too good to be true, it probably is.

How Garage Door Scams Work
Typically scammers market to consumers who need emergency repair that's because when you need immediate service, you often call the first company you find and fail to seek a second written bid from a reputable local company that won't overcharge or recommend unnecessary repairs.
Scammers will also take advantage of your lack of knowledge of garage door operation and the actual cost of garage door parts such as springs, rollers and cables.
While overcharging is not necessarily illegal, scammers are often using false advertising and deceptive practices to get deeply into your pockets.


How To Check if a Company is Running a Scam
Research is your best bet when determining if a garage door company is offering a really great deal or if it is running a scam on potential customers. Do your homework by:
Searching online to see if the company has a local address or showroom and view the property on Google Maps.


Finding the company's Facebook page and reading all the customer reviews. Also use sites like Angie's List to find reviews from legitimate users.


Getting estimates from multiple garage door companies and comparing prices. If the technician pressures you to move forward with the repair right away to qualify for an advertised price, reconsider the agreement.


Making sure the employee is driving a truck or vehicle with the company's name and contact information and is wearing a shirt with the company name and logo.


Using dealer locators on garage door manufacturer websites. Major manufacturers have a "Where to Buy" page that lists reputable garage door dealers who service their products in your market.
Don't forget to ask direct questions before hiring a company you don't know.
Ask the representative what the name of their company is - don't provide the name for them. Garage door scammers often operate under generic names, like Garage Door Services, or a name slightly different than an established reputable local garage door dealer.


Ask the company to give you their address and double check their answers. If the name or address differs, contact another company.


Ask if the company is licensed, bonded and insured. Bonded means that you are financially protected if the job is done poorly or left unfinished. Insurance, on the other hand, covers their liability while on duty. For example, if the tech gets injured while working, the company's insurance will cover any claims and you won't be held liable.


Ask for a written quote. A written contract should specify the price, labor and time frame of the job. Never sign anything unless you have thoroughly read all paperwork and are aware of any warranties or guarantees.


Skip the Scammers and Choose a Garage Door Company You Can Trust
For more than 50 years, Overhead Door Company of Sioux City™ has been serving Siouxland from its original location. It is recognized as one of the most reputable and trusted brands in the garage door industry. Our doors are durable and long lasting. We are an Overhead Door™ Red Ribbon distributor, which means we offer unequaled expertise in the Overhead Door's™ innovative product line. Always look for the red ribbon. Contact us today.