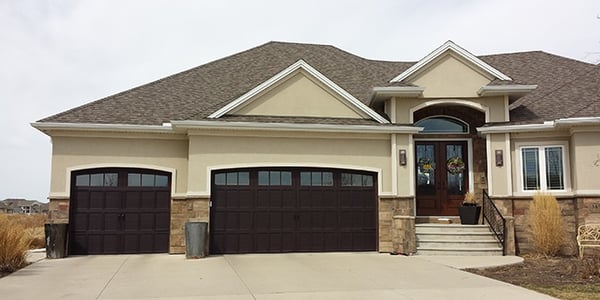 Don't let your garage door be your home's biggest safety concern this holiday season. Your garage holds some of our most valuable possessions, our vehicles, and if your garage is attached to your home, it could give intruders access to your entire house, even with an automatic opener. A security system is your best bet to keeping your home safe, but there are some DIY tips and suggestions you can to keep things secure this holiday season and beyond.
Tint your garage door windows. There's no need to allow intruders to window-shop your goods. Frosted or tinted windows will prevent burglars from seeing what you store in your garage, like expensive golf clubs, TVs, tools, etc. Also, since the burglar won't be able to tell if your car is parked in the garage, he or she won't know when you're away from your home.
Hide your remote. Your garage door remote is just another key into your home, don't leave it in plain sight inside your vehicle. If you're hosting out-of-town guests and need to park outside, be sure to hide the remote or keep it with you in the house. Apps and devices, like the Overhead Door Anywhere app, eliminate the need for a remote, instead putting the ability to open and close your door on your phone.
Add extra locks. When you're ready to travel over the river and through the woods to grandma's house, add an extra security measure by engaging the garage door lock and even attaching padlocks on each track above the rollers. Just be sure to bring a house key and remember to remove the padlocks before trying to open your door when you return.
Keep it closed. You want to welcome friends and family into your home for the holidays, not thieves. Prevent burglars from gaining access to your home through the garage by making sure your garage door is always closed (no matter how safe your neighborhood is). Don't forget to keep any side access doors locked as well.
Don't give them an inch. Need to plug in your Christmas lights? Make sure you don't run the electrical cord underneath your garage door. Cords prevent doors from closing all the way and make it easier for burglars to pry them open.
Don't let holiday crime affect your family. The holidays are a wonderful, cheerful time and by following these tips, you'll help prevent holiday break-ins and ensure the season stays a happy one. Happy Holidays from Overhead Door of Sioux City & Yankton!