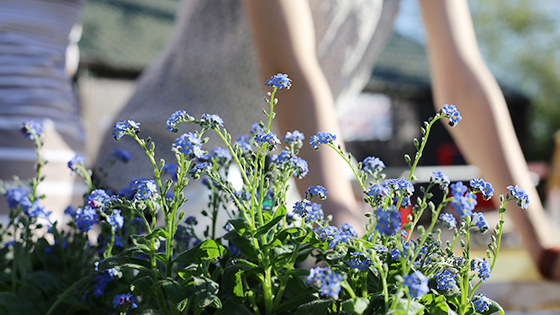 Spring is here, the sun is shining so that means it's time to get back outside. Outdoor improvements are a great way to dust off winter's cobwebs and increase your home's value at the same time. A word of caution - avoid making unnecessary upgrades, like a pool, especially if you're planning on putting your home on the market in the near future. You won't recoup the cost if potential buyers, in your home's price point, don't see the upgrade as a value.

Gardening and landscaping are two of the most popular types of updates a homeowner can easily do.
Plants, shrubs and trees can transform your yard into something spectacular. The level of continual maintenance though will vary depending on the type of plants you choose. For example, annuals and roses require constant dead-heading and pruning. Consider native, drought-tolerant plants, which are low-maintenance and less expensive. A shade tree, or shrub planted near a window, can offer relief from the summer sun's rays on hot days reducing your energy bill.
Don't forget to pay attention to your lawn. Give patchy and discolored grass some attention by seeding or filling in holes with new sod. Consider hiring a lawn service to mow and fertilize properly. Trim hedges, shape trees and make sure your lawn is debris-free.
Add an outdoor living space by building a deck, patio or installing a fire pit. These spaces are a must-have for homeowners and buyers. Decks have a high return on investment at 74 percent for composite and 87 percent for wood and 98 percent of buyers want them.
Along with gardening and landscaping, a new garage door can do wonders for your curb appeal.
A new steel, insulated, carriage, wood or modern aluminum door will almost always pay for itself in retail value. A new door has an average of an 85 percent return on investment. Today's garage doors come in so many different styles and materials, they can literally transform the outside of your home. Plus, a new door can increase your home's security and energy-efficiency.
Once you add a new door, you'll want to refresh your siding, trim and fences with fresh paint and patch and repair your driveway. Add little inexpensive touches, like a new doormat, refreshing mulch and updating your doorknob. These types of improvements are simple, but go a long way.
Give Overhead Door of Sioux City and Yankton™ a call when you're ready to boost your home's exterior and make your garage the envy of every neighbor on the block.