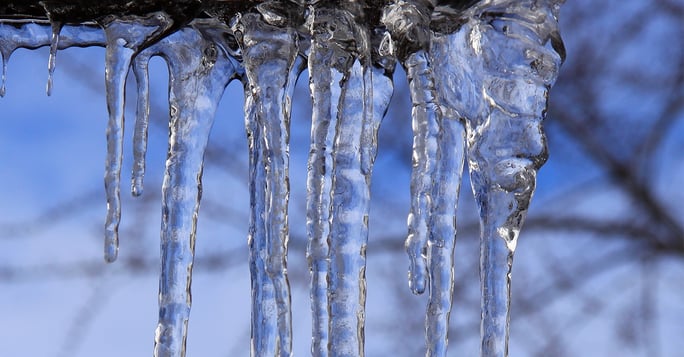 When you live in the Midwest, cold temperatures are a fact of life. Unfortunately, they can make your commute a nightmare. You may even struggle to make it out of your own driveway if your garage door freezes shut due to the winter weather. While you may not be able to open your door with an "open sesame," the following steps will help you get your garage door open in no time!
#1

Don't Try To Operate

The Garage Door Opener

More Than Once
Cold temperatures make it harder for your garage door opener to do its job. If the garage door won't open the first time, don't continue to try to use the garage door opener. You don't want to damage the machinery and pay for repairs.
#2 Ensure Your Garage Door Isn't Locked Or Broken
Before you proceed any further, you need to make sure your garage door isn't locked. Check the lock button on your wall console as well as the interior slide lock to be sure. If the garage door is not locked, look for any broken parts that may be preventing your garage door from opening.
#3

Try To Open The Door

Manually
If the door is not locked or visibly broken, you can try opening it manually. Pull on the manual release cord to disengage the door from the opener, and, if possible, repeatedly open and shut the door using this cord in order to ensure the door can do so smoothly.
#4

Melt Any Ice Or Snow At The Bottom Of The Door
If your door won't open manually, it may be time to break out the blow dryer. Melt the ice and snow in front of the door by moving the blow dyer steadily over the icy sections. You can also opt to pour hot water along the bottom of the door (but be ready to open the door quickly before this water freezes!).
#5

Prevent Future Freezes
To prevent your door from freezing shut again, you should spray the bottom seal with a lubricant. If you have time to lubricate all the machinery in the garage door, do that as well. Be sure to continually remove ice and snow from the front of the door (when chipping at ice, be careful so that you don't damage the bottom seal). You can also put dirt or cat litter alongside the bottom of the door.
The arrival of ice and snow is inevitable, but the winter weather doesn't have to keep you stuck at home. If you're having troubles getting your car out of the garage due to a door that is frozen shut, follow these steps. You'll have your door opening and closing faster than you could have said "open sesame"!
If the weather gets the best of you and you find your garage door in need of repair, contact the team of experts at Overhead Door of Sioux City & Yankton.