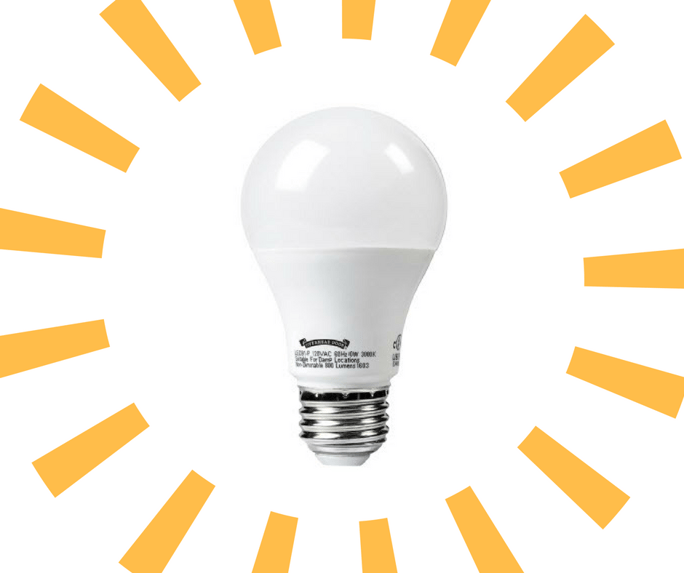 Your garage door goes up, and the light comes on. Your garage door goes down, and the light comes on again. It's a dual mechanism many of us take for granted; we never have to worry about entering or leaving our vehicles in the dark. When you take into consideration that the average garage door opens and closes more than 1,000 times a year, you may ask yourself—is there any benefit to switching to LED bulbs?
The answer: Yes. And no.
The reason most homeowners switch to LEDs is long-term cost and energy savings. LEDs last 25 times longer than incandescent bulbs and use at least 75% less energy. They typically burn brighter without burning at all because LEDs produce little, if any, heat. This also makes them a safer choice for most garage owners.
But you can't put just any LED light in your garage door opener. To work, LEDs produce Electro Magnetic Interference, or EMI, when they turn the supplied AC voltage into a DC voltage. To do this results in a circuit with lots of inductance, and inductance produces an electric field around the circuit. Many of the LEDs you find in big box and online stores shield the body of the bulb in plastic, which does nothing for blocking this electric field. In most cases, this is perfectly fine. However, if you have electrical products nearby—like a radio or, say, a garage door opener—you'll notice some intrusive interference that may render things like your garage remote completely useless.
Enter the Overhead Door light bulb.
More than just a great idea that glows over the heads of our amazing engineers, the Overhead Door light bulb has a unique design that shields the EMI from disturbing the radio frequency that goes between your garage opener and your remote.
"Traditional LED light bulbs are becoming increasingly popular for use in garages, but many of them can unexpectedly cause the opener's remote control to have decreased operating range," said Heather Meiner, brand manager for Overhead Door Corporation in a recent blog post. "We're thrilled to introduce our LED bulb because it will help ensure your opener and remote perform at their best, no matter what brand of garage door opener you have."
And, because it's us at Overhead Door, we've taken additional steps to make sure our LED light bulbs can handle the harsh conditions garages typically see. They are shatter and vibration-resistant, can perform in damp conditions, and can handle a wide temperature range. And, at 800 lumens, they deliver plenty of light on just 10 watts of power, producing an operating cost of as little $30 over their 25-year lifetime.
And that is a bright idea.
Read more about the new Overhead Door light bulb here. Click below to ontact Overhead Door of Sioux City for any questions or service needs.