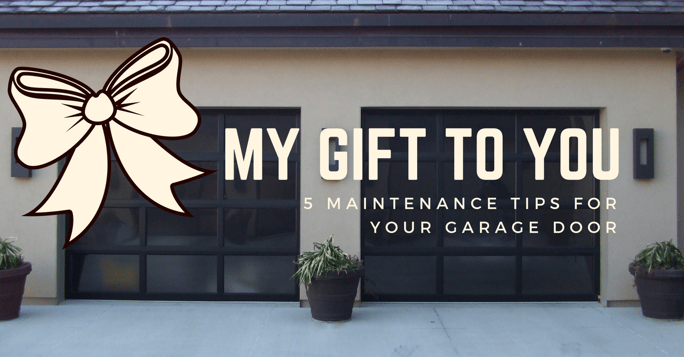 There's nothing like walking into a drafty garage on a December morning and sitting on a cold driver's seat before driving into work. That chill that runs up your spine as you close the door to your warm house behind you isn't fear; it's an uninsulated garage. And it makes even those of us who love our jobs consider retreating to cozy blankets and hot coffee. Mondays are hard.
While there's nothing you can do about the start of the workweek or our less-than-tropical Sioux City and Yankton weather, there are a few things you can do in your garage that will make the job of tackling the world a little easier in the colder months.
1. Inspect your garage door weather-stripping.
Weather stripping is pliable by nature and, over time, can become dry, brittle, and cracked as it is exposed to the elements. Replacing your garage door weather stripping is a small investment in time and money (unless you take advantage of this offer) and can offer immediate draft protection and added comfort all winter long.
2. Keep your garage door free from snow and ice.
Our Midwest winds love to curl around garage doors and drift snow in the most inconvenient ways. Stay ahead of snowfall by frequently shoveling in front of your garage door. This will help prevent the door from icing shut as well as save your sanity from having to tackle a 3-foot drift when you are already late for work.
3. Beef up your garage insulation.
Even a little bit of insulation along the walls of your garage will help keep the cold at bay and harness any heat that escapes from your home. Insulating your garage may seem superfluous; however, if there are water pipes, equipment, appliances, or temperature sensitive items inside those walls, it's worth protecting them as much as possible. Like replacing your weather stripping, this job is a small investment in money and energy. When in doubt, consult a professional who can do the job right.
4. Install a garage heater.
Of course, merely keeping the cold at bay isn't enough to provide comfortable warmth in your garage. Garage heaters are available in both gas and electric options to provide energy-efficient warmth, as long as you take your cost and comfort needs into consideration. Whereas electric heaters are easy to install, gas heaters make up the initial line installation and ventilation requirements by being more energy efficient in the long run.
5. Replace your garage door.
Even if you insulate and heat your garage, if your garage door is unsealed, it will cool your best efforts. Today's garage doors offer an incredible amount of protection against temperature swings while being lightweight and beautiful. Fully sealed and insulated, a new garage door—which is essentially a moving wall—can provide you the protection you need to make your garage more comfortable, your stored items more protected, and your Monday mornings a little easier to handle.
For more advice on garage door maintenance, inspections, installations, and repairs, give us a call or hit the button below. We're here for you no matter what the weather.
- Chadd Goosmann, Owner of Overhead Door Company of Sioux City & Yankton