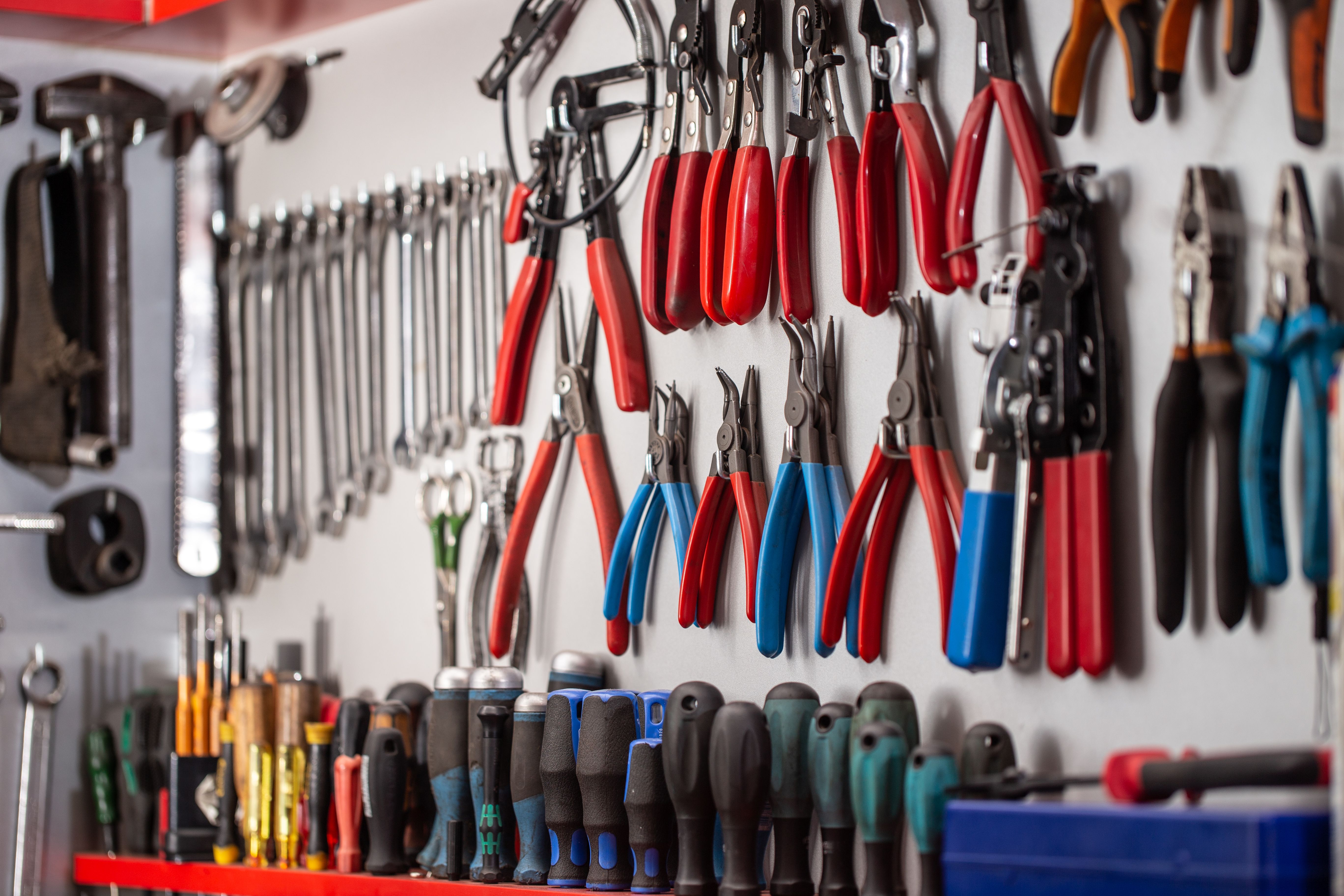 All too often, a home garage ends up being a dumping ground for things we don't want to throw away or store indoors. But having a garage that's a disorganized mess not only means you can't find items when you need them, but you could end up with less space to park your vehicle. A garage should be well-organized and contain items that you use for your vehicle, yard and outdoor play.
Place a trash can near the door. It's easy to take trash from our cars and leave it on a shelf or bench. Unfortunately, it usually lives there for way too long. Place a trash can near the door to your home or outside to easily toss garbage. Add recycling bins for papers, cans and plastics. Take your old oil and other vehicle fluids to a local recycling center.
Use clear plastic storage tubs. Outdoor holiday decorations are often stored in the garage, which keeps them close when you need them. Store them in clear tubs and label them for the season so you can easily find them when the occasion arises.
Hang hooks to store play equipment and tools. Use your garage's vertical space to hang bicycles and scooters. Bulky garden tools, like shovels, rakes and garden hoses, stay upright and out-of-way on wall hooks. Plus, they're in easy reach when you need them.
Install and organize shelving. Industrial, garage friendly shelving units are widely available. These can be free-standing or attached to the wall. Shelving is ideal to store and stack items up high like coolers and storage bins. You can also designate each shelf for specific categories of items. For example, one shelf might contain car care items like motor oil, windshield washer fluid and funnels. Other shelves might house lawn care items like fertilizers and grass seed. Storing these items off the ground also keeps them out of reach of pets and children.
Move cold-sensitive items inside. Even though it makes sense to store some items in the garage, like motor oil and herbicides, winter is the one time of year they should move inside. Lawn sprays, house paint, gas for the lawnmower and fluids don't tolerate cold temperatures, leading to a loss of consistency, color and effectiveness. Most manufacturers recommend storing these items in areas above 50 degrees and even if your garage is attached, temps can still dip during Iowa and South Dakota winters.
Pay attention to your garage door. A well-organized garage has a garage door that's free to move up and down, without any items getting the way. Keep toys, tools and equipment away from the photo eyes of the door. Your garage door's photo eyes are two sensors that transmit infrared beams that keep the door from closing if an object passes through it. If the alignment is thrown off it, say from being knocked by a ball or bicycle, your garage door may not close. Also, if the lens on one or both photo eyes is dirty with debris, the garage door may not operate. Keep this area clean and clear. It's also a good idea to make sure the rest of your garage door's parts are clean and in good working order. Coat the springs and chain with lubricant, inspect the rollers to see if any need to be replaced and replace the rubber seal on the bottom of the door.
The professionals at Overhead Door of Sioux City and Yankton™ can inspect your garage and tell you if anything needs to be fixed or replaced.