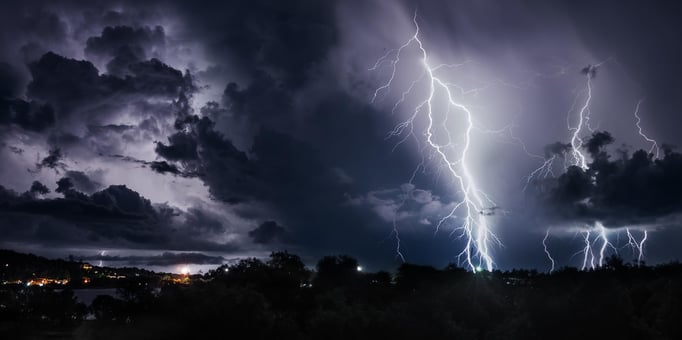 Thunderstorms are commonplace in the Midwest during the spring. And, along with lightning, rain, wind and hail, storms tend to bring on power outages. People tend to scramble to keep the fridge closed and grab a flashlight when this happens. They usually don't think much about the garage door opener, until they need to leave in a hurry.
Garage door openers run off electricity, just like every other home appliance. So when the power is out, the garage door needs to be opened, or closed, manually.
Here's how:
Make sure your garage door's latches or locks are open. Latches may be located on both the inside and outside of your garage.
Locate your system's bypass trigger, usually a rope that hangs down from your opener. Pulling down on this handle disengages the automatic system. It is much safer to do this when the garage door is already down because if open, the weight of the door could slam shut potentially injuring anyone nearby.
Once the bypass trigger is engaged, pull the rope back as close to the opener motor as possible to keep it out of the way while you manually open the door. Your garage door should freely open with a little effort. Keep in mind that garage doors are heavy items that operate under massive amounts of tension. Your garage door and its opener are designed to manage this tension safely, so be sure not to do anything that feels risky or that seems outside of normal operation.
When the power returns, reattach your garage door to the automatic opener by pulling down on the handle at the end of the rope again. Pull up on the door until you hear or feel it span back into place. You can also just push your automatic opener button. The spring will reconnect once the opener reaches a certain point.
Consider investing in a battery back-up accessory. Overhead Door of Sioux City and Yankton™ offers a battery, powered by Interstate, that is compatible with Destiny and Odyssey openers. It will run up to 50 cycles in a 24-hour period after an initial outage.
If your garage door won't engage with the automatic opener once power returns, it may be time to call us. We can help you troubleshoot it over the phone or send a technician out to make any necessary repairs.