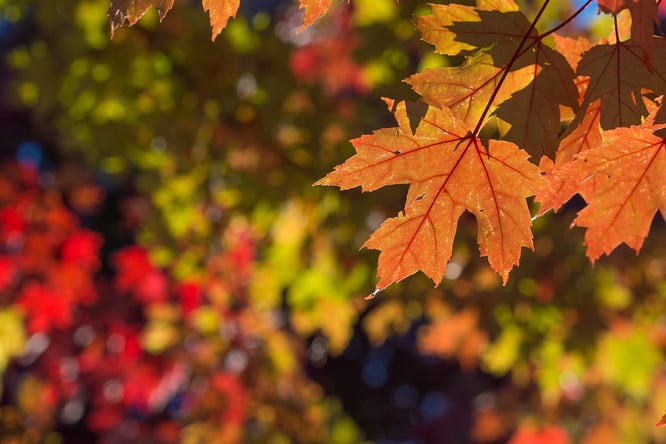 The change of season means we're starting to see the beautiful pops of color that our region is known for. Maples, oaks, walnuts, and ash trees seem to turn brilliant overnight, making fall in Sioux City and Yankton the favorite season for most of us who live here.
Until all the leaves fall off the trees and end up in our garages.
It's an endless battle. Door goes up, leaves blow in. Door goes down, leaves hurl themselves into the door corners and wait for their next opportunity to get inside. We can't prevent the leaves from falling or the wind from blowing, so what's a person to do?
We scanned the interwebs for ideas and were often left with more questions than answers. Getting leaves out of garages is a problem that impacts people all over the country no matter which direction their garages are facing. Part of the issue has to do with the pressure difference on the two sides of the door, part of it has to do with wind, and part of it has to do with sheer volume (and will).
We have a few ideas.
Here's How To Keep Leaves From Blowing Into Your Garage
Install a garage door threshold on your garage floor that aligns with your garage door (install per product directions). This rubberized bump will not only ensure high-force rains do not enter your garage, but it may also deter leaves from blowing in.
Use a floor fan pointed down, across the floor, to keep air moving out as the garage door is opened. This will minimize the pressure difference a bit and set up a bit of a pressure "force field" to keep the leaves at bay. Of course, you'll have to remember to turn it on and off (but it's better than sweeping).
Make it a regular habit to blow the leaves from the garage door and entryway. The fewer leaves piled up, the fewer that can sneak in.
Some folks use a rolling garage door screen that allows them to use the garage (and enjoy our glorious fall weather) while keeping debris where it belongs.
Consider low growing ground cover that could help catch the leaves before they hit your driveway and land against your garage door.
Some of the less practical solutions we found included cutting down all your trees (we hope you're not THAT frustrated), moving to the prairie, and raking leaves every single day.
Our favorite solution came off one of the message boards we follow. "I have the perfect solution for removing leaves from my garage whenever necessary. It's called a teenager."
While you're sweeping, blowing, and raking, now is a great time to get your garage door inspected for fall and winter.
Take advantage of our latest offer: Our thorough garage door inspection AND a new weather seal, bottom seal or new wireless keypad for free!