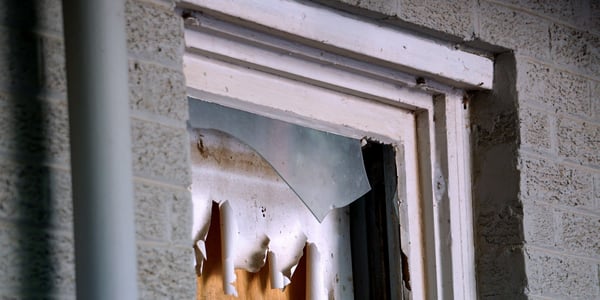 It's that time of year when pranksters are out in full-force smashing pumpkins, stealing outdoor decorations and toilet papering houses. Shaving cream, eggs and toilet paper are common tools for those trick-or-treaters who are more interested in the "tricks" than the "treats." And while these household products may seem harmless, they can do lasting damage if not cleaned up quickly. If you're an unfortunate homeowner who wakes up to one of these messes on Nov. 1, this is the blog for you.
Shaving Cream Is For Faces, Not Siding
Shaving cream does wonders for a close shave but is murder on paint and siding. The best way to combat it, is to spray or power wash it off before it dries. If you find it is already dry, use a damp rag to soften it, then wash it off with warm, soapy water. You don't want to scrape it off - as it will most likely take your house paint with it. If a shaving cream fight broke out on your driveway, hot water and laundry detergent will do the trick to get out the stains it leaves behind.
Throwing Eggs Is Not An Egg-cellent Idea
Eggs are another trickster tool that you'll want to clean up sooner-than-later as hardened yolks can stain your siding. If you slept in, or just can't get to cleaning up splattered yolk right away, soften the egg's proteins with warm, soapy water or use a 50-50 mix of vinegar and water and let it sit for about 15-20 minutes. Hydrogen peroxide can also be used, but only on light-colored paint or siding as it's a bleaching agent. One note of caution: be careful of the shells. If they are not picked off before you wipe, they can leave scratches on your paint. Once you remove the shells and soften the proteins, power washing will make those eggs stains a distant Halloween memory.
That's Just A Waste Of Good Toilet Paper
On the flip-side of the above tasks, it's best to clean up toilet paper after it has dried. You don't want to start the process when there is still dew on the ground; trying to clean up wet toilet paper will just leave a bigger mess as it's designed to break down. Once the paper is dry, use a rake or broom to remove it from branches. A leaf blower can come in handy as well. It is best to start at the top and work your way down.
Really want to prank-proof your home? Don't create opportunities for pranksters. Park your car in the garage and put pumpkins in the window, instead of your front porch. Also, make sure you keep all outdoor lights on and be friendly when you hand out candy.
Need more tips for your garage and home maintenance? Be sure to check out our other blog topics here. We're always at the ready to help Sioux City and Yankton homeowners with their garage door needs.