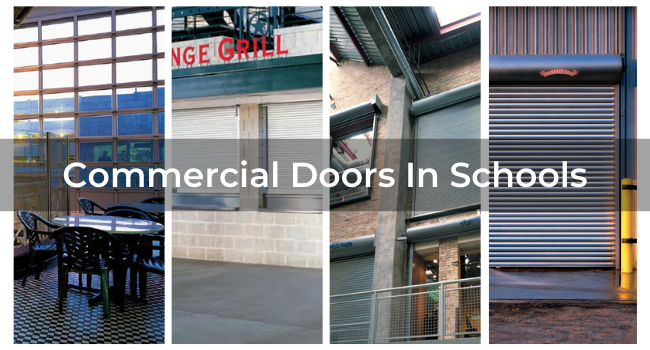 One area where commercial garage doors can make a huge impact is in education. Even the smallest schools receive deliveries, and they must put the safety and security of their students first. That doesn't mean schools can't benefit from the latest technology Overhead Door of Sioux City and Yankton™ has to offer in commercial garage doors.
Rolling steel doors can be used in school buildings for both interior and exterior applications. Rolling steel doors come in a variety of sizes and materials, offering schools a virtually endless array of options to satisfy both the building's aesthetics and its working requirements. These upward-coiling service doors fit openings up to 1,500 square feet and are available with numerous slat profiles, curtain materials and colors.
When schools need more security and ways to keep students safe, installing Overhead Door's™ fire-rated doors is essential. These specialized rolling steel doors meet the most demanding fire safety standards, unusual opening sizes and discerning aesthetic requirements. These doors are designed to close automatically in the event of a fire or alarmed event. These fire-rated doors are ideal for service door and counter applications in institutional projects. We provide fire doors with UL or FM labels and are listed for both masonry and non-masonry applications. Our FireKing® fire door collection offers fire protection, innovative design, and optimized performance for the end-user. The Fire Sentinel® time-delay release device provides an added measure of safety to control the doors' closure.
Rolling counter doors are ideal to keep food service spaces secure when lunch isn't being served. These specialty commercial doors fit smaller openings to 20-feet wide and 9-feet high and are available in three basic types, metal curtain, wood curtain and integral frame and sill.
Aluminum glass doors are some of the most attractive commercial garage doors available. While these doors might not be a traditional solution for school buildings, one school found a unique way to use them indoors. An elementary school in Billings, Mont., used doors similar to our aluminum glass doors to help separate learning spaces, while leaving views open to break down traditional classroom barriers. The doors gave the school the ability to expand classroom sizes on an as-needed basis.
Overhead Door of Sioux City and Yankton™ is your top source for commercial garage doors in the Sioux City and Yankton areas. Our commercial garage doors are ideal for a variety of industrial, retail, commercial and institutional applications. Contact us and we can tell you which types of commercial garage doors will best fit your space.