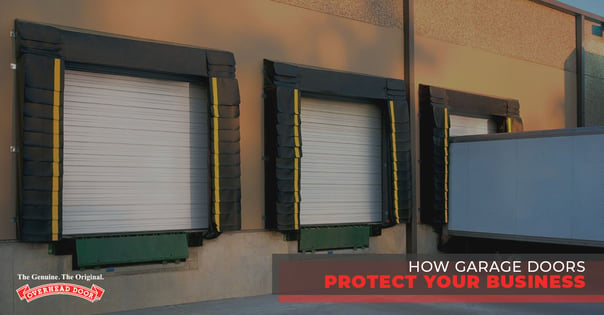 How Commercial Garage Doors Protect Your Business
Security is a top concern for most businesses. And while companies will invest in security systems, like cameras, they don't always consider a potential security risk – their commercial garage door. If your commercial garage door is outdated, it might leave your business open to multiple threats.
External Threats
No matter if you own an industrial warehouse, retail space or restaurant, your building and the items inside need to be protected. An old, damaged or malfunctioning door can act as a beacon to thieves. An outdated or antiquated door can provide easy access to those who want to break into your building and steal your products. That's because older garage doors weren't built with the sort of materials and technology that's used today.
Installing a sturdy, well-made door makes it harder for thieves to break-in, meaning more time for them to get caught. For example, an Overhead Door heavy-duty rolling service door is built with a standard galvanized steel curtain, or an optional stainless steel or aluminum curtain. These doors come with an interior slide bolt-on push-up lock and a padlock chain keeper on a chain hoist, giving you additional security when you lock up at night.
And, when you install a new commercial garage door, you also boost your business's curb appeal. An outdated or damaged door can say a lot about your business, and not in a good way. A well-made and visually appealing door projects a good image while a damaged and worn door says another, even if your business runs like a top. Investing in a sleek, modern commercial door makes your business more appealing and comfortable for customers and potential customers to patronize.
Internal Threats
While a new commercial garage door can protect your business from external threats, it can also protect you from internal threats, like temperature, noise and wind.
When temperatures dip, the inside of your workspace suffers if your commercial garage door doesn't fit right or isn't working as it should. Investing in an updated and insulated commercial garage door can greatly improve the R-value of your business. R-Value is a measure of thermal efficiency. The higher the R-value the greater the insulating properties of the door. A door that's insulated can help regulate the temperature inside your building, keeping it warm in the winter and cool in the summer, which allows your HVAC unit to work more efficiently. Overhead commercial garage doors can have R-values up to 17.4.
An upgraded door can also positively impact your employees by improving their work environment. The same R-value that insulates your commercial space from weather conditions can also help reduce noise pollution – resulting in a better work environment. Three-layer sandwich construction with inner and outer galvanized steel surrounding a polystyrene core keeps out the sounds of busy streets, construction, trains and other outdoor noise pollution.
These doors also offer wind load resistance which protects your business from natural disasters. Wind load resistance is essentially how much pressure from wind the door can withstand without succumbing to any damage. During hurricane and tornado seasons in particular this is exceptionally useful for protecting your property from external forces out of human control.
Your old commercial garage door isn't doing you any favors if it can't protect your business. Contact one of our locations today to learn more.