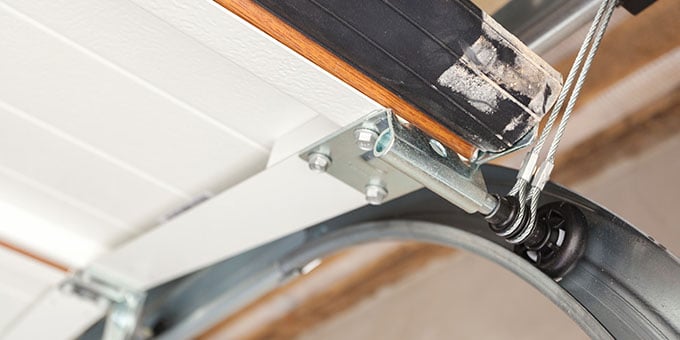 There are few feelings as worse as when your garage door won't open or close. Since normally you'd only open your garage door when you're coming or going, you don't have time for it not to work. Fortunately, there are a couple of quick, DIY fixes you can do to get your garage door back on track.
Check the batteries in your garage door remote.

If you have a second garage door remote, see if that one works and if it does,

it is

likely

you

just have to replace the battery in your remote. If the remote still doesn't work, and the remote is more than 10 years old, it may need to be replaced.





Check the unit's plug.

If neither the remote nor the wall switch works, check to make sure the opener is plugged in all the way. Check your electrical box to make sure a circuit breaker, fuse or CFGI hasn't been blown or tripped.





Check the photo eyes

.

Your garage door's photo eyes are two sensors that transmit infrared beams that keep the door from closing if an object passes through it. I

f the alignment is thrown off it

,

may cause your garage door to

not close. Also, if the lens on

one or both of the photo eyes is dirty with debris,

garage door may

not operate. If your photo eye is flashing

,

an obstruction is in the path of the door. Remove the

debris and adjust the photo-eye until

the indicator light is no longer flashing. Your door should now properly operate.





Check to make sure your door isn't manually locked.

If

pressing the

button to raise the door

doesn't open it

, but the motors runs

for a few seconds and

then shuts off, your door may be manually locked. Many garage doors, especially older ones, come with manual locks for extra security. It can be easy to hit the button that slides bars across the doors, especially if you need to squeeze between the door and the back of your vehicle.





Check the disconnect switch.

The disconnect switch is typically located on a string near the opener.

Its job is to allow you to open and close the door manually when the

power goes out. If you've

recently

lost power and pull

ed

the switch, you need to re-attach it before your door will open. Open your door all the way, reattach the hook and then try closing it again with your remote.
If you've gone through all your DIY checks and your door still won't open, it could mean a bigger problem exists, including a broken spring or tension cables. These issues don't have a DIY solution. Garage doors are heavy, potentially-dangerous pieces of machinery that require an expert to fix it safely. Contact the experts at Overhead Door of Sioux City and Overhead Door of Yankton and our service technicians will correctly diagnose and fix the problem.