Green garage doors may seem like a bold design move, but since the color is rooted in nature and restoration, it's actually not that far of a stretch. Ranging from warm, yellow tones to cool, blue ones, the color green makes a very natural neutral, complementary both modern and traditional home exteriors.
That being said, green doesn't like to be kept in a neutral state, as we see with our first example here. This bright lime green is bursting with fun and excitement and almost dares you not to smile. Yet despite it's wild hue, lime is surprisingly versatile, looking just as lovely with deep purples and chocolates as it does with oranges and pinks, so you can imagine the landscaping potential here.
Which leads us to this lakeside garage, which features a garage door that takes its cues from its surroundings. Hidden from view, this deep olive-green garage door nestles right under the roof, letting the blue sky and the water get most of the attention.
What's not to love about these next green garage doors? That gorgeous hunter green is exactly the right color for that shingled siding and forested backdrop. It makes us wonder why more people don't choose green for their garage doors.
The white trim that borders these avocado green garage doors is perfectly sports-y, if we can make up the term. It's not suprising in the slightest that these green garage doors are flanked by basketball hoops. The entire look feels like an outdoor gymnasium. All that's left to do is pull up your socks and lace up.

Aaaahhh, tranquility. These homeowners knew exactly what they were doing when they added that zen-green garage door to their town home's manicured front yard. This is a garage anyone would be happy to come home to.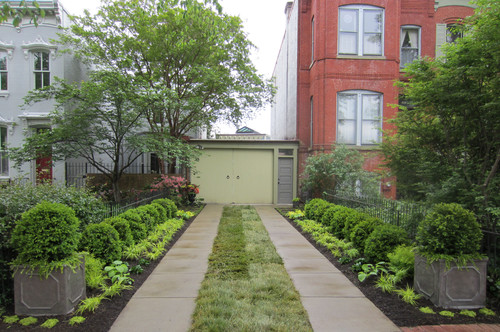 Looking to revamp your garage door? Contact
Overhead Door of Sioux City
today and a team member will help you design your new garage door.
Also! Don't miss out on our March savings!