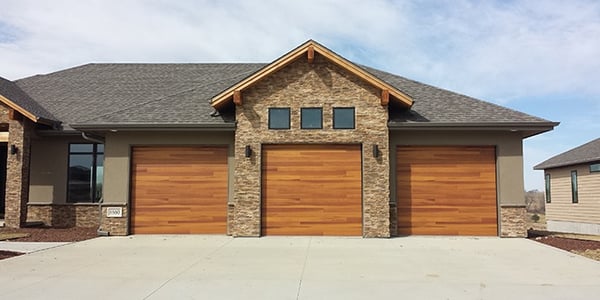 You've driven up and down your neighborhood streets, longingly looking at your neighbors' new, updated doors and wished for one of your own. What are you waiting for? The holidays are the perfect time make your garage door wishes come true. Start the process online with our our free DoorView online visualization tool.
There are so many options and choices today for garage doors that it can be hard to know which one is the best for your curb appeal and aesthetic. That's where the DoorView Visualizer comes in to allow you to virtually "try on" several different designs, materials and looks so that you know exactly what you're getting when you place your order. Did we mention it's free? Happy holidays.
The Design Process is Simple and Free
The process is simple:
Take a clear, bright picture of your home with the garage door in full, unobstructed view. If you can't wait, you can use one of the template homes.
Go to our Design Center.
Select a garage door shape like square or curved.
Customize your garage door with your favorite colors, windows, glass, hardware and appropriate door size. Not sure of your size? Single doors are commonly eight or nine feet wide with a height of seven or eight feet. Double doors are most often 16 feet wide and seven or eight feet high. But, measure your door to be sure.
Save your design, print it out and share it with those whose opinions you trust, be it your spouse or social family.
The Quote is Free
Once you've saved your perfect door, send us your idea and we will tell you how much it would cost. No obligation, no worries, no hassle. The only time you pay is once you make the decision to get your dream door installed.
A Great Decision
A garage door is one of the best things you can upgrade to add value to your home. If you're planning on selling soon, you'll get about 85 percent return on your investment. That's a decision that won't keep you up at night!
Don't let this holiday season pass without getting something you really want. Visit our design center today, get planning and once you've picked out your perfect new door, we'll do the rest. You can trust us to get the job done right. We've been serving Sioux City and Yankton for more than 50 years. We have a longstanding commitment to Siouxland to provide service and superior workmanship.