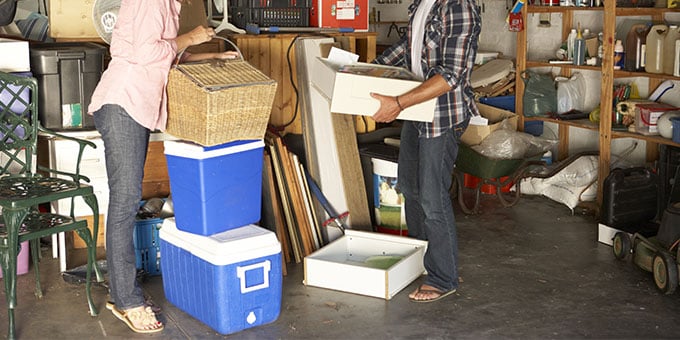 Now that the outdoor temperatures aren't soaring into the 80s and 90s on a daily basis, it's a great time to show your garage a little love before fall arrives. Your garage has likely been a dumping ground this summer for all your warm-weather projects. Spend a Saturday afternoon - while the temperature is still nice - to check these items off your fall to-do list.
Take out the trash.

Toss out garbage and any recycle any empty containers. Take your old oil and other vehicle fluids to a local recycling center. Remove

all paper, which attracts rodents and other pests

, and sort any storage items (like outdoor decorations)

.

For example,

July 4

th

decorations should be rotated to the back and

t

he Halloween and Christmas decorations

pulled

forward.





Scrub the floor.

Just like in spring, give your garage floor a good sweep and scrub to get rid of dirt, dust and grime. Doing this before winter weather helps decrease the amount of dirt tracked into the house. Just be careful around electrical outlets and use a squeegee to remove as much remaining water as possible.





Transfer cold-sensitive items to the basement

.

Lawn sprays, house paint, gas for the lawnmower and fluids for the car not only add clutter to your garage's interior but don't tolerate cold temperatures, leading to a loss of

consistency, color and effectiveness

. Most manufacturers recommend not

storing

these items below 50 degrees and even if your garage is attached, temps can still dip during Iowa and South Dakota winters

.





Test alarm devices.

Test any smoke, carbon monoxide and heat detectors located in your garage. Also,

check your fire extinguisher and inspect that it hasn't expired. Don't have any of these devices? We strongly recommend you go out and buy them as they are essential to keeping your home and family safe.





Prep

garden

tools for storage.

Spray your

garden tools

with water

and use a

wire brush to remove any caked-

on dirt. Clean and sharpen pruners, shears

and hedge trimmer blades. Drain all gas-powered machines (lawnmowers and trimmers) and dispose of the fluids properly.





Hang hooks to store the kids' bikes

.

Make a plan to utilize

your garage's vertical space for

storing outdoor toys like bikes and water toys. Lifting these items off the floor frees up space for that snow

blower you're going to need sooner than later.





Tune up your garage door.

Give a thorough look to all the parts of your garage door, taking note if anything is loose or bent.

Coat the springs and chain with lubricant, inspect the rollers to see if any need to be replaced and replace the rubber seal on the bottom of

the door. You can always call us to help. The professionals at

Overhead Door of Sioux City and Yankton™ can inspect your garage and tell you if anything needs to be fixed or replaced

.
Checking these items off your to-do list now, will ensure you get the most out of your garage during the fall and winter. Don't hesitate to contact Overhead Door of Sioux City and Yankton™ and we'll get any necessary repairs done before the weather turns.