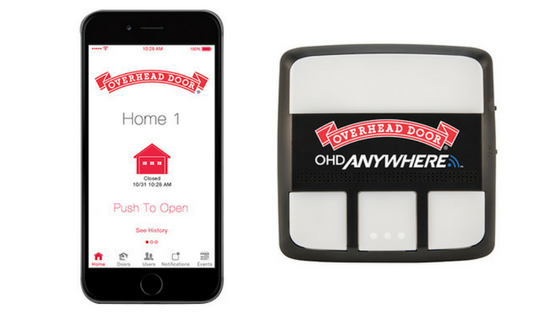 Have you ever driven away from your house, only to turn right back around to check to see if you left the garage door open? It happens to everyone at one time or another. But we have a solution, the OHD Anywhere app.
OHD Anywhere is a smartphone app that works in conjunction with a device on your garage door opener. It allows you access to and control of the largest moving object in your home from anywhere with a cell or wireless signal.  The app is easy to use and better than anything else on the market.
With the OHD Anywhere kit, you can:
Check if your garage door is open.

Make sure your garage door is closed.

Get notified when someone uses your garage door, even if they operate the door manually.

Open the garage door for a delivery.

See what time your teenager pulled into the garage last night.
Let a neighbor into your garage to borrow a tool (although it can't make sure he returns it).

Set up permanent and temporary users on your account (they just need to download the app onto their own phones).

Operate up to three doors on a single account.

Free Over-the-air updates and feature upgrades as they happen.
This kit takes all of the worry out of owning a garage door. Never risk being late for work or school again. It is also compatible with several different garage door openers, even ones you didn't purchase from Overhead Door™.
Overhead Door of Sioux City and Yankton™ will showcase the OHD Anywhere kit at the 2018 Siouxland Home Show on March 1 - 4 at the Sioux City Convention Center. And, even better than seeing the kit in person is the ability to win one! Overhead Door Company of Sioux City and Yankton™ will give away a free kit at the Home Show. Just stop by our booth to enter your name in the drawing. Not going to the Home Show? You can enter to win the kit below.