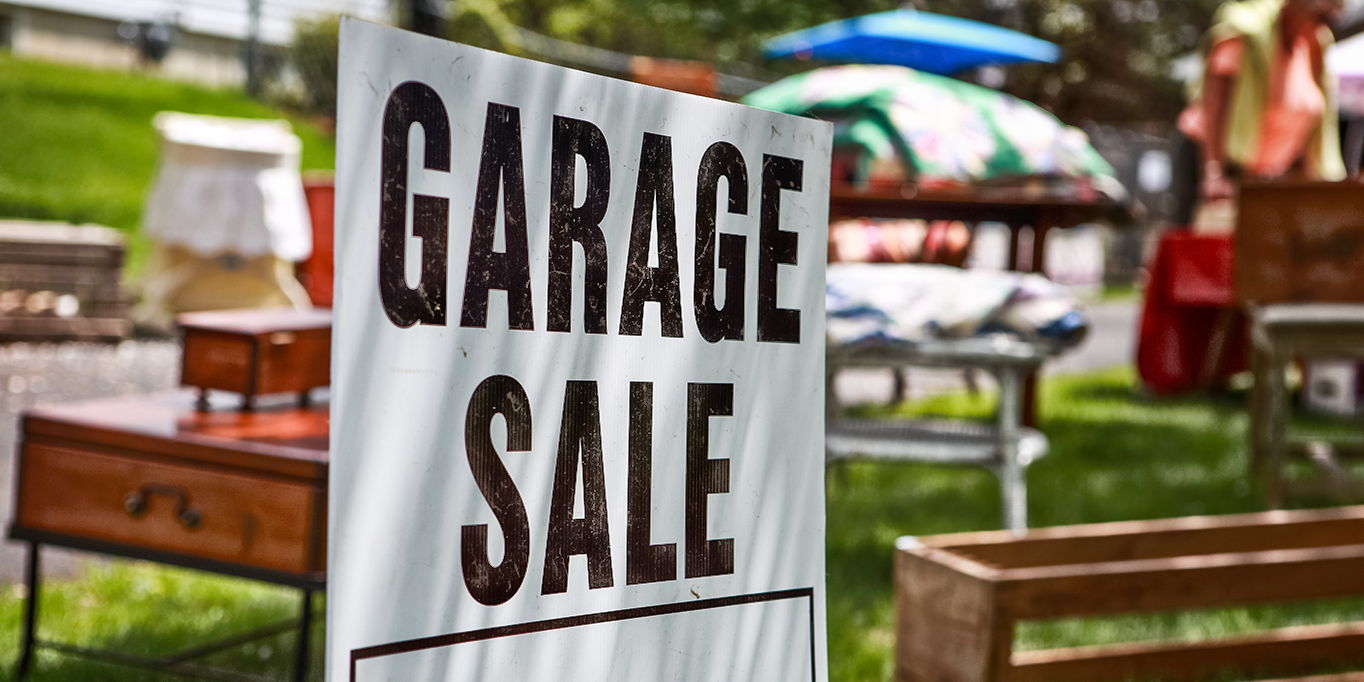 Having tons of clutter stored in your garage can really be embarrassing, especially if you don't even have enough room to park inside! Garage sales are the perfect opportunity to rid your home and yard of things you don't use and make a little cash on the side.
There's a lot of competition out there come garage sale season. Make your event stand out from the rest by following these tips:
First

,

make sure there are no local ordinances that ban a garage sale. For example, some communities require a permit to hold a sale. You don't want to go through the trouble of planning a sale, only to have it shut down by authorities, or worse, fined. Better to be safe than sorry.

A

dvertise!

Get the word out about your garage sale.

Some communities have local paper

s that list neighborhood

rummage or garage sales for free.

Social media also works awesome to advertise your sale, especially if you want to post photos of hot items. There's always the option to

go old school

and create posters and signs. Put them up at the end of the block

to attract

potential buyers that drive by

.

Put your big ticket items in front to help capture your buyer's interest.

Children's outdoor play equipment, furniture and

appliances

can easily be seen from the road and encourage those passing by to sop. Some other top items for sale include:

common household items, like vacuums, irons and furniture

,

tools, clothes, antiques, sports equipment

and retro items like old v

ideo game systems.

Only put out what you want sold. This may seem like a no-brainer

,

but it's

very

easy for a memento or keepsake to end up in the same box of

stuff

you

're trying to sell. R

emember Toy Story 2?

Keep your for sale items organized and easy to navigate. The more

professional your garage sale looks

, the more you

're likely to sell your stuff.

Always keep a "free"

pile.

One man's trash is another man

's treasure! This pile can also grow as the day goes one as some items may not be gathering as much interest as you initially thought. Save yourself some hassle and get rid of them on the same day, rather than taking them to a donation center later.

Sell drinks or snacks to your shoppers. A garage sale is

a

perfect opportunity for your little ones to show their

entrepreneurial

side by selling lemonade and/or treats

. The more comfortable your shoppers are, the more likely they are to stick around, especially on a hot day.
Garage sales not only put some extra money in your pocket, they also help keep your clutter under control. You'll end up with a garage that's clean, organized and one you'd be proud to show off when the door is open. Plus you can put the money earned to good use and invest back into your garage with a new door or opener. Overhead Door of Sioux City and Yankton™ can give you options for an upgrade.