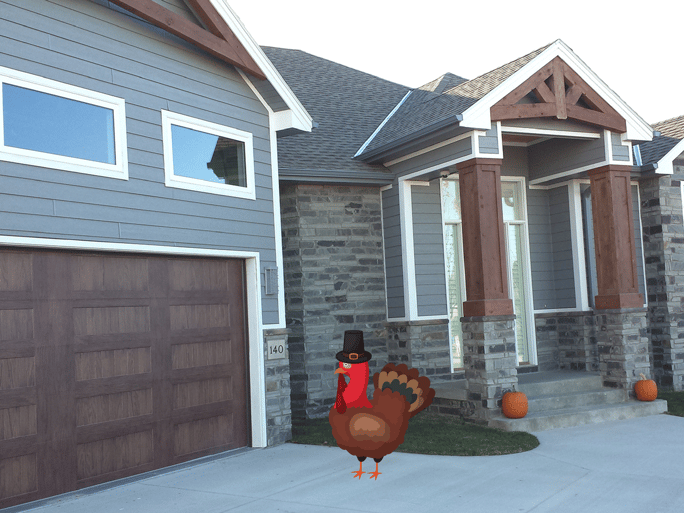 With Thanksgiving right around the corner, it's time to talk about the turkey! After all, the turkey is one of the highlights of this holiday. While traditionally baked in the oven, more and more families are opting to fry this portion of their meal. Not only does the turkey cook faster when it's fried, but many swear it tastes better, too.
A perfectly fried bird is a great addition to any Thanksgiving meal, but not when it costs you your families' safety. If you fry your turkey in your garage, you're playing with fire – literally. Hot oil and an open propane flame can easily combine to create a raging fire that destroys your garage and your house.
So, from our Overhead Door family to yours, heed this warning: NEVER fry your turkey in your garage. Instead, follow these turkey-frying tips to bring the turkey to the table safely!
1. Fully Defrost The Turkey
Make sure to allow ample time for your turkey to defrost; it takes about 24 hours to defrost 5 pounds of turkey if you are defrosting it in the refrigerator. If the turkey is not fully defrosted before frying, residential ice and water inside the turkey could displace the cooking oil and cause it to spill out of the fryer.
2. Take It (Completely) Outside
While we've already warned you of the dangers of frying your turkey in the garage, also avoid frying the turkey on a patio or deck. Instead, opt to place your fryer on a level, dirt surface.
3. Don't Overdo The Oil
If you overfill the fryer with oil and then place the turkey inside, hot oil will run over the sides of the fryer. To avoid this, do a "test run" with water. Fill the fryer with water and place the turkey inside. If the water rests about 1-2 inches above the turkey, you can use a corresponding amount of oil. If the water rises any higher than this, use a smaller amount of oil in order to avoid spillage.
4. Be Prepared
Even if you're following all possible safety measures, it's always best to be prepared. Have a fire extinguisher close at hand while you're frying the turkey. Advise those nearby to never use water to put out an oil fire and to use the extinguisher in case of an emergency.
The turkey can be one of the highlights of the Thanksgiving holiday, so it's important to fry it properly! Follow these tips to make sure you are keeping your family, your friends, and your garage safe as your turkey cooks to perfection.
We at Overhead Door of Sioux City and Yankton wish you a happy and safe Thanksgiving. Remember, we're always available for garage door service!