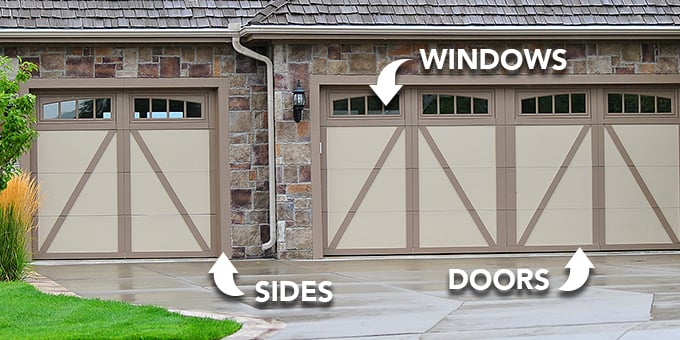 Your garage door is an intricate piece of machinery that serves many functions; it is an extra door to your home, a security system and it protects your vehicles from inclement weather. We know a thing or two about garage doors. The upward-lifting door and electric garage door opener was invented by our founder, C.G. Johnson, in the 1920s.
Your Garage Door
A garage door is made up of multiple components.
Door Panels. Garage doors are made up of panels and sections that interconnect with hinges and rollers.
Structured supports are located at the bottom and top of the door, along with attachments for lifting cables.
Garage doors will either have torsion springs (a cable winding on drums) or extension springs that extend along horizontal tracks at the top of the garage opening.
Both sides of the door are guided by tracks when it is raised or lowered. The operator hanger attaches the tracks to the ceiling.
The operator, or motor, raises and lowers the door. It has an emergency pull cord which disengages the motor so the door can be lifted or closed manually.
Photo-Eyes. These boxes sit at the base the door and use a light transmitter to detect any objects in the door's path.
Common Garage Door Repairs.
All of your garage door's parts must work together so your door can raise and lower easily. When one of these parts get out of whack, your entire door may stop working.
There are four common reasons your door may stop working.
Malfunctioning Photo-Eyes. If your photo-eyes are not lined up correctly, your garage won't close. A dirty lens can also cause the door to stop operating. Remove any debris and adjust the photo-eye until the indicator light is no longer flashing.
Broken Spring. Since the spring provides the tension required to lift your door, when it breaks, your door won't budge. When one goes bad, the second spring is usually replaced at the same time. Never try to fix this yourself. Always call us first.
Malfunctioning Remote Control. A common mistake for homeowners is not replacing the remote control unit's battery. If yours still isn't' working with fresh batteries, contact us for a replacement.
Noisy Garage Door. If your door has a lot of shakes and rattles when it rolls, your hinges, rollers and springs may need some lubrication. We can help with that as well.
Schedule a Service Call
We are the experts at garage door service and repair. We can replace a garage door chain, spring or even a single door panel. We can also fix broken or bent rollers and misaligned or rusted tracks. Don't forget, we offer preventative maintenance which keeps you aware of potential issues so there are no surprises down the road. Give us a call to schedule a repair appointment today.