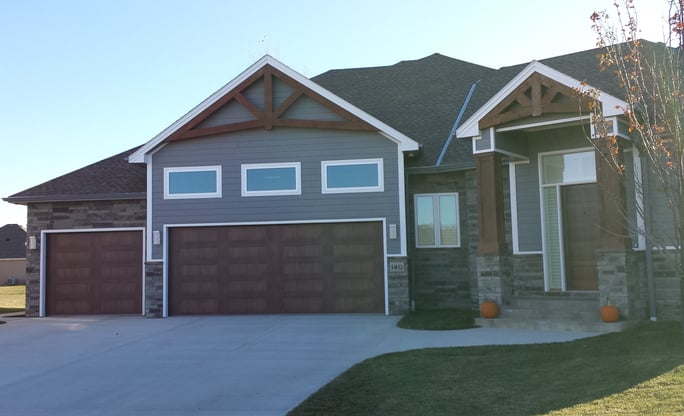 Traditionally, fake items – from fake dollar bills to fake designer handbags – are considered less than desirable. However, fake isn't always bad. In fact, we at Overhead Door of Sioux City and Yankton believe that "fake" can be "fabulous," at least when it comes to our faux wood garage doors! These popular doors deliver all of the following benefits:
#1 Style
Wooden garage doors are very popular and can certainly upgrade the curb appeal of your home. Faux wood garage doors can deliver the same stylish look! They resemble wooden doors so closely, you'd be hard-pressed to tell the difference between the two.
#2 Low Upkeep
Did someone say low maintenance? Faux wood doors are much easier to maintain than wooden garage doors. Wooden garage doors are susceptible to the elements and need painted or stained regularly. Faux wood doors, on the other hand, are made out of fiberglass. They don't need to be painted or stained, and they won't rot or rust.
#3 Low Cost
Less is more, at least when it comes to cost. While faux wooden doors are slightly more expensive than steel garage doors, they cost far less than hardwood doors. This means you can purchase the stylish garage door of your dreams, even on a budget!
Conclusion
Think a faux wood garage door would be a good fit for your home? Visit our Design Studio to find out what your home would look like with one installed. If you like what you see, give Overhead Door of Sioux City & Yankton a call. With our help, your home will be sporting a fabulous faux wood garage door in no time.