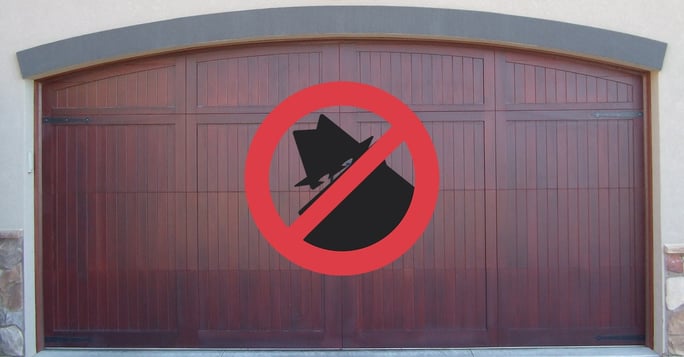 The holidays are filled with many wonderful things – good food, our friends and family, and an abundance of happiness and cheer. Unfortunately, they are also accompanied by an increased crime rate. To keep your holiday season full of joy, make safety a priority by securing your garage door and following these other safety tips.
#1 Secure Your Garage Door To Prevent Holiday Break-Ins
You want to welcome friends and family into your home for the holidays, not thieves. Prevent burglars from gaining access to your home through the garage by making sure your garage door is always closed (no matter how safe your neighborhood is). Keep all other doors and windows closed and locked as well. If you park your vehicle in the driveway, make sure your garage door remote is not left out in plain sight in the car.
#2 Don't Run Electrical Cords Underneath Your Garage Door
Need to plug in your Christmas lights? Make sure you don't run the electrical cord underneath your garage door. Cords prevent doors from closing all the way and make it easier for burglars to pry them open.
#3

Don't Keep Packages Or Gifts In Your Car
Presents tempt eager children to open them early; they may tempt passersby to break into your vehicle as well. If you must keep presents in your car, keep them out of sight in a locked trunk. Better yet, bring them inside as soon as possible.
#4 Don't Hide Your Spare Key Near The Entrance To Your Home/Garage
Many people hide the spare key to their garage or front door near prominent entrances, and unfortunately, many robbers know this as well. Give the spare key to a trusted neighbor if necessary. If you'd like to do away with a spare key altogether, consider installing a wireless keypad on the outside of your garage.
#5 Frost Those Windows
Does your garage door have windows? Tis' the season to frost them (permanently). Frosted windows will prevent burglars from seeing any of the expensive gifts you are currently storing in the garage. Also, since the burglar won't be able to tell if your car is parked in the garage, he won't know when you are away from your home.
Don't let holiday crime affect your family. The holidays are a cheerful time – by following these tips, you'll prevent holiday break-ins and ensure the season stays a happy one. Happy Holidays from Overhead Door of Sioux City & Yankton!