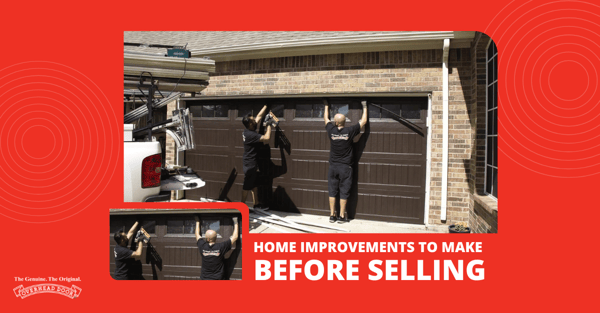 Those looking to sell their homes want to get the most money out of them as possible. While a hot real estate market, like the one we've been having, might mean your home has a better chance of selling fast, investing in a couple of upgrades could provide a bigger return on investment or ROI. Garage door upgrades are an easy, cost-effective way to upgrade the look of your home, boosting its value and curb appeal.
Residential Garage Doors Have High ROI
Real estate agents warn when considering a home upgrade, make sure it's one that will provide enough ROI to make it worthwhile. For example, you wouldn't want to invest tens of thousands of dollars in a mid-range kitchen remodel, according to the 2022 Cost vs. Value Report, because you'd only recoup 51.6% of your costs. A residential garage door, on the other hand, is a way better investment. The same report notes replacing your garage door, which costs a fraction of a major kitchen remodel, has a 93.3% ROI.
Easy Upgrades to Your Garage Door
Upgrading your garage door is a smart idea and can include something simple like scrubbing it clean and lubricating the parts or completely replacing it. No matter which upgrades you choose, rest assured you'll get your money's worth.
Painting Your Garage Door
Paint is one of the easiest and most economical ways to upgrade your home, including your garage door. And, if your garage door is looking shabby, a fresh coat of paint will make it more aesthetically pleasing and help protect it from the elements. When deciding on paint color, keep in mind that a lighter color will reflect the sun's rays, instead of absorbing them which can help keep your garage cooler.
Adding the OHD Anywhere App
The Overhead Door™ Anywhere App is a seriously cool piece of tech that can make any homeowner's life easier. The app lets you control and monitor your garage door from literally anywhere with your Apple® iPhone or Android phone or device. The OHD Anywhere App uses a sensor that's attached to the garage door - an important security advantage versus other systems that monitor the opener instead of the garage door position. Anytime the door changes position, even if it is operated manually, you are alerted. The app is also compatible with both Google Home and Amazon Alexa home automation systems.
Replacing Your Garage Door
As mentioned above, when you replace your garage door you can recoup more than 93% of your investment. According to the National Association of Realtors 2022 Remodeling Impact Report, the cost recovery of replacing your residential garage door is 100%. So even if you decide to stay in your home for another two years, it's still a great investment. What's more, with winter just around the corner, upgrading to an insulated garage door could increase your home's energy efficiency by regulating the temperature between your home and garage.

The professionals at Overhead Door of Sioux City and Yankton can help guide you towards a garage door that will benefit your home and budget. We sell several types of garage doors in several designs, colors and thermal ratings. Plus, we've been for more than 50 years and have the expertise to install your new door correctly and provide great customer service throughout the process.

Call us today so see how our services can give your home an upgrade.
.