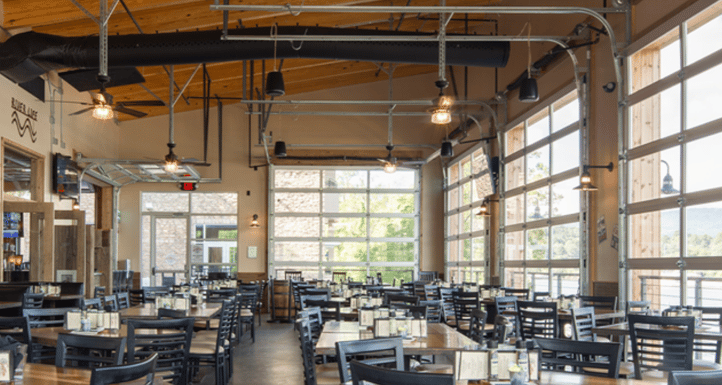 If your business moves stock or has a loading dock, you likely have a garage door. But just because your business has space for a garage door, doesn't mean all doors are the same. Commercial garage doors offer benefits that go above and beyond your typical garage door.
What Types of Businesses Use Commercial Garage Doors?
Mechanic and repair shops typically have one or more doors to move vehicles in and out of the work areas. Restaurants use garage doors to accept deliveries or even transform spaces into indoor/outdoor dining rooms. Emergency response services, like fire departments and EMTs, use quickly-moving doors to respond to 911 calls. Manufacturing companies use bays to load products onto trucks for shipping. Materials are also delivered via loading docks. Retailers who receive large amounts of inventory or large, bulky items use loading docks and commercial garage doors to receive shipments.
What are the Benefits of having a Commercial Door?
Commercial garage doors, like those sold by Overhead Door of Sioux City and Yankton™, are built with a business' specific needs in mind. Commercial doors need to fit the size of your bay or opening, be sturdy enough to withstand daily wear and tear, help keep indoor temperatures under control and protect your assets.
Customizable sizes.

Commercial doors come in a range of sizes to fit almost every type of opening. Commercial doors are large enough to allow fire trucks to drive through or small enough for golf carts or ATVs.

Overhead's Rolling Steel Doors

can fit openings up to 1,500 square feet.



Commercial doors are durable.

The majority of commercial doors are made of heavy-duty steel or aluminum which can take daily use. The doors also rust-resistant, so they can withstand the harshest weather conditions.

Insulated commercial doors are available.

Typically, commercial doors cover large openings in your shop or building. An insulated door, like

Thermacore Sectional Steel Doors

, comes with extra insulation comprising of foam and metal that helps regulate indoor temperatures, i.e., lower heating and cooling bills.



Commercial doors offer security.

A well-built, sturdy commercial garage door is almost impossible to break into. Doors made of strong steel and aluminum require extreme measures by thieves to gain access. Your business, employees and products are secure behind a commercial garage door.
Just as commercial doors are vastly different from residential, so are garage door companies. Overhead Door of Sioux City and Yankton™ not only offers residential doors, but we build and install quality commercial doors that last year after year. We've been in business for more than 50 years and are committed to providing those in and surrounding Sioux City and Yankton the best doors and unparalleled customer service. Call us today to ask about how a commercial door can benefit your business.