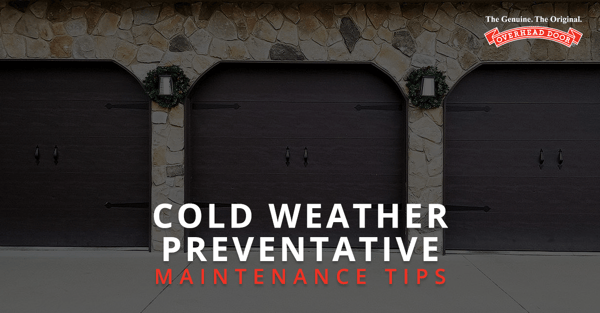 Frigid and blustery weather may seem to be months away but in reality, it could happen at any time. Perfect fall weather typically only seems to last a handful of weeks in the Midwest and is often disturbed by extremely hot temperatures one day and snow and rain the next. Most of us have a list we diligently check off to prepare our homes for winter, like winterizing sprinklers and lawn equipment, moving temperature-sensitive solvents indoors and adding insulation around windows and doors. But your garage door also needs some attention when temperatures drop.

Follow our tips below to mitigate and prevent damage from cold weather.

Use a Good Lubricant
Garage doors have several moving parts including panels, tracks, rollers and hinges. Over time, these parts can start to rust and wear down. Lubricating these parts is essential to keep your garage door running smoothly and reduce oxidation. But be aware, not just any lubricant will do. Some lubricants simply aren't made for cold weather or are a mess to use.
According to
Bob Villa
, there are two types of lubricants effective to use on garage doors: silicon-based lubricants and lithium-based lubricants. While both work for all types of garage door parts, including metal, plastic and nylon, silicon-based lubricants are extremely weather-resistant, making them the best choice for freezing winters and sweltering summers. Use a good silicon-based lubricant on all the moving parts of your garage door.


Check the Weather Stripping
Weather stripping is used along the bottom of garage doors to block precipitation, e.g., snow, ice and rain, as well as debris and pests. Weather stripping is often made out of a flexible material like rubber and can wear out over time. Weather stripping that's damaged can't keep out moisture and cold air, leading to bigger problems like a frozen door and icy garage floor.
Check your weather stripping
for wear and tear. Clean off any dirt or debris. If your weather stripping is cracked or torn, replace it before winter arrives.


Don't Neglect Your Winter Chores
When severe weather is forecasted, it's a good idea to batten down the hatches and wait it out. Run to the store, check the emergency kit, make sure you have fresh batteries and prepare your garage door. Throw ice melt or table salt down on the spot where the garage door closes to prevent the door from sticking, which could potentially damage it the next time you try to open it.

Stick to your shoveling routine, even if you don't plan on driving anywhere. Pushing the snow away from your garage door will help mitigate any moisture that could seep underneath, allowing it instead to drain away from your home like it's supposed to. And, if you have a wooden door, you definitely want to keep snow from your door, as the extra moisture could cause the wood to swell.

If your door does freeze shut, pull the manual release cord to disengage the door from the opener. Try to lift the door manually to break away the ice. If the door won't budget, pour hot water along the ice, chipping away as you go. A blow dryer works well here too, or you can put a space heater in your garage to slowly melt the ice.
Call for a Garage Door Inspection
The experts at Overhead Door of Sioux City and Overhead Door of Yankton can professionally inspect your garage door and let you know what steps you should take before winter comes. Beyond checking the weather seal and how well the parts are lubricated, our experts can check your garage door's springs, cables and other parts to make sure everything is in working order.
Get a head start on winter. Follow our tips and call our experts for an inspection.