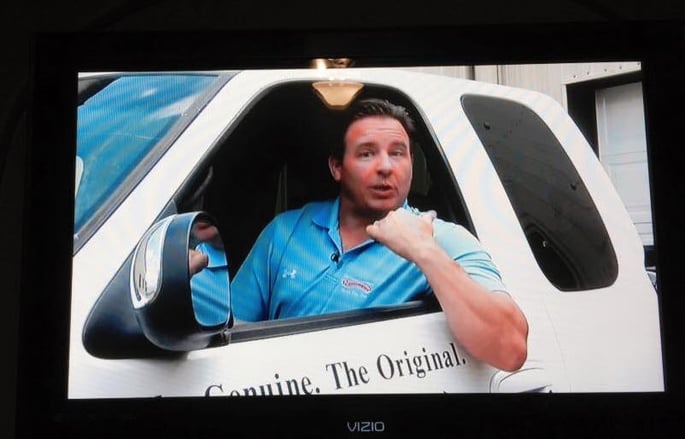 I don't often get a chance to sneak onto the site and talk to you myself, but I wanted to take a second to tell you two things:
Go Hawkeyes.
It's time to get your garage door inspected.
While the Hawkeyes' season is out of our hands, making sure your garage operates securely and safely is not. Did you know we recommend an annual inspection of your garage door? Can you remember the last time you had us over to take a look at it?
Exactly.
You are probably aware that Overhead Door of Sioux City and Yankton is a family company. We know exactly why having a reliable, safe, and secure garage door is important to you because we depend on our product just as much as you do. We never have to worry about whether or not our garage doors will go up when we're driving home in a thunderstorm. We don't worry when tricycles and rollerblades roll across the door path. We go to bed fairly confident that our doors can keep out the majority of the worst offenders, and we're pretty grateful that usually means black crickets and a really cruel north wind.
One of the main reasons we can be so confident is because we make a point to inspect our garage doors on a regular basis. We know what a normal, healthy operation sounds like. We know where trouble spots are and what to look for. We know when a squeak can mean a small repair and a shudder could mean a big one. And we know how important it is to catch them all early.
I know you're busy with football practices, dance recitals, volleyball tournaments, and family functions. I know your garage sees more of you than your house does. I know this because it's true for me, and I see you all on the road. I don't remind you to get your garage door inspected because it's my business; I remind you because it should be yours. I'll be the first one to tell you that your garage door is one of the most amazing things in your home. And I'll also be the first one to tell you that it can be one of the most dangerous things, too.
To make sure you know we're serious about this, we are currently offering a basic service and inspection for $149 PLUS one of the following for FREE:

Weatherseal for one double or two single door
Bottom seal for one double or two single doors
Wireless or wired keypad
Not only will you get peace of mind, but you'll also get an upgrade, which is what you'd expect from a company that believes in customer service and product integrity. Don't wait. Click below to sign up now to take advantage of this offer and keep your garage the safe place it was meant to be.