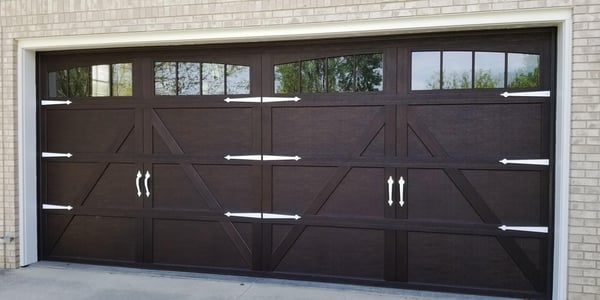 Nothing says "Welcome Home" like a garage door that operates as beautifully as it looks. Today's home designs, particularly those in Siouxland, often feature street-facing garages, which means that up to 40 percent of a home's curb appeal is often covering whatever is in a garage bay. To make their homes stand out against the backdrop of standard suburbia, Yankton and Sioux City home-owners are upgrading their white raised panel garage doors to ones featuring unique windows, patterns, and colors. These trends for 2018 can easily be incorporated into your home.
Windows give character.
Sometimes all it takes to completely change the look of a garage door is windows. Square, arched or rectangle, windows make a door stand out from the crowd of same-olds. Consider adding windows in non-traditional places, like along one side of your garage door. Or look into our aluminum doors with windows, both clear and frosted, for panels.
Colors that wow.
Front doors let go of their white panels years ago, and now new garage doors are also popping up in full color. And the best part? Most color palettes are offered as a no-cost option on many different door designs. We invite our Siouxland, Yankton, and Onawa clients to live life in color; let your style and your house be your guide to choosing the right shade, whether you go the modified traditional route of brown, almond, and sandstone or you try the latest color palette of black, grey, and Desert Tan. And yes, there are many more hues to choose from.
Go with the grain.
Get the resilience of steel and the look of real wood with garage doors that make the most of strength and beauty. Most doors are now available with a woodgrain paint and wood overlays in a variety of tones.
Rethink your doors.
Homeowners are finding more uses for garage doors than just in the garage. You can find them in opening the way to decks and patios to bring the outdoor space inside. Garage doors as windows provide light and extra clearance space. Choose an insulated door that you'll love to look out of, like one of Overhead Door's™ custom overlay and glass doors.
Tech for days.
Garage openers connect to the internet and allow you to open and close your garage door with your cell phone, like the Overhead Door™ Anywhere app. This app allows you to check and manage your door's operation from anywhere in the world; you never have to worry about giving out a garage key or code. New garage openers also come with battery backup, quiet belt drives, door monitors and side-mount installations.
Contact us for a free estimate on a new door. Also, check our website to see all the residential garage doors we have available.